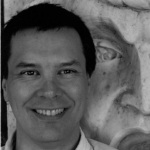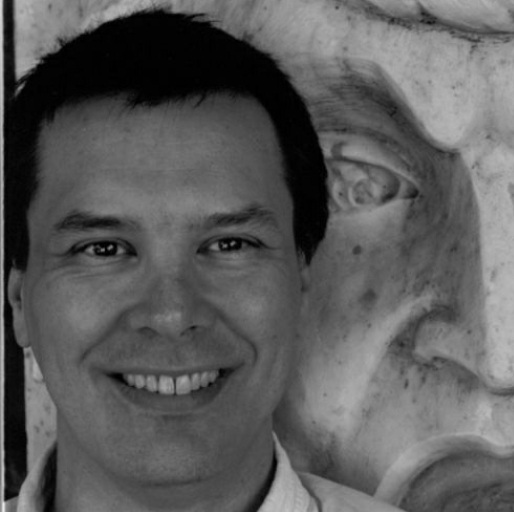 I'm very pleased to post this great interview with composer Geoffrey Gordon regarding his composition Fancywork. Not only is it a great piece but it was also commissioned by the excellent Duo46 who have been featured on the site a few times before. You can check out Fancywork on Gordon's Soundcloud to hear and subscribe to his music. the soundcloud performance is by the San Francisco Contemporary Music Players (David Tanenbaum, Guitar; Graeme Jennings, Violin). Written in 2006, it's a significant work clocking in at about 16 min and was commissioned by the Barlow Endowment.
Composer's website: geoffreygordoncomposer.com
Read the composer's bio: geoffreygordoncomposer.com/bio
Interview with composer: Geoffrey Gordon
February, 2014 via email with Bradford Werner
Bradford Werner: What's the story behind Fancywork? How did it get commissioned?
Geoffrey Gordon: I was contacted by Duo46 (their agent at the time, actually) about writing something for them. I had the idea about exploring this early American arts and crafts phenomenon colloquially known at the time as Fancywork. This seemed the perfect opportunity to do it.
BW: Had you written other pieces with guitar up to this point?
Yes, I had. In addition to playing the guitar myself, I had written several things, including a large scale work called Interiors of a Courtyard, for guitar and mandolin (available via iTunes) as well as some mixed chamber music.
BW: Did you work closely with Duo46 for this work? What kind of advice or influence did they make?
I did work closely with them. Duo46 have a history of commissioning and performing new music, so it was a privilege to work with them. This involved, primarily, rehearsals and the kind of give and take that always marks a strong collaboration on the premiere of a new work.
BW: What are some of the pro and cons of writing for guitar in relation to your personal style of composition?
Well, it's a challenging instrument! As anyone who plays guitar knows (and as any composer who writes for the instrument learns quickly), there is really no sound like it. The range of dynamics, the unique chord voicing, even the fast decay in the sound—all these aspects can be viewed as positive or negative, really, depending on your point of view! I would not say that my personal language posed any specific obstacles to writing for guitar. The key, for me, is always to write idiomatic music which both challenges the player and fully exploits everything the instrument can do. It's a lifelong process ….
BW: How does Fancywork reflect 19th century "fancy"?
The idea, really, is not to evoke the 19th c. in musical language (obviously), but rather to capture the spirit and adventurousness of the art movement. From my program notes for the work:
Scholars have long categorized the colorful and playful American artifacts which date from the early part of the 19th century as "folk," but during this period they were actually called "Fancy" and were mainstream designs for the 19th-century homes of the growing middle class. An exhibit organized by the Milwaukee Art Museum, American Fancy: Exuberance in the Arts, 1790-1840–featuring more than 200 of the most ornamental and emotionally engaging artifacts ever produced in this country, including furniture, textiles, costume, ceramics, glass, metals, paintings and prints–directly inspired the music herein.
The bright colors, vibrant patterns and imaginative designs that stirred the senses during this era of American history informed every aspect of this work, although the music is in no way intended to reflect or imitate the 19th century sonically. Rather, it is the spirit of the invention which I have attempted to capture … the love of color, the intense joy and bursting confidence of these Fancyworks. These were invigorating and visually stimulating works, ambitious and innovative conceptions which captured the feeling of an era. And Fancy was as much a worldview as it was a style: Literary and philosophical trends, dramatic social changes and scientific inventions all contributed to the spirit of Fancy–mirroring the youthful optimism of the new nation, from its18th-century philosophical origins to the living manifestation as art and artifact in the 19th century. Little wonder, then, that this explosion would have sufficient reverberation to inspire 21st century music.
This is a three movement work. The first two movements, florid, exuberant and moto-rhythmic, would seem to require no further explanation. The second movement, subtitled "Kaleidoscope," does. Part of the Fancy phenomenon included a fascination with the then brand-new kaleidoscope. "Kaleidoscope-Mania" swept the nation in the early 19th century, the oscillating colors and almost magical imagery not surprisingly resonating with the same crowd which fancied Fancy. This movement–at once shimmering and still–is a reflection of that.
BW: Do you think there will be more writing for the guitar in the future?
I hope so! I very much want to write a concerto for the instrument (or, perhaps, a double concerto for guitar and violin). I love the guitar, and I'm always open to writing for it, in pretty much any context.
BW: What's next for Geoffrey Gordon?
I just finished work on a concerto for cello and orchestra, commissioned by the Copenhagen Philharmonic, and their stellar principle cellist, Toke Møldrup. (You can hear the premiere, via Danish Radio, here: http://www.dr.dk/radio/ondemand/p2/p2-koncerten-539#!/ ). Next up is a joint commission from the Cleveland Orchestra and the Dallas Symphony, for the 2014-2015 season, as well as a new saxophone concerto for Australian soloist Amy Dickson, which will premiere with the Boston Modern Orchestra Project next season.
Interview End.
Composer's website: geoffreygordoncomposer.com
Read the composer's bio: geoffreygordoncomposer.com/bio