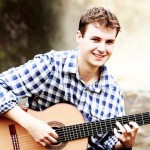 I'm swamped with reviews right now so can't do them all but I really wanted to give a shout-out to this excellent young guitarist who just released his debut album. London based guitarist Steven Joseph has released an accomplished recording featuring music by Reinhardt, Jobim, Westlake, Duncan Ward, Rivera, Gary Ryan, Duarte and himself! Two of the recordings are world premieres. Listen to the sampler below and you'll agree with my quick quote: Steven Joseph is a fearless and exciting young guitarist with daring virtuosity and an intimate touch on the instrument. Here's his bio and a promo vid. Check out his website for more info.
Hailed by Classical Guitar Magazine as "an accomplished young performer" whose "work is always of interest", London based guitarist Steven Joseph is quickly establishing himself as one of the most exciting and innovative guitarists of his generation. Having already performed throughout the UK and abroad as both a soloist, concerto artist and ensemble player, his performances have captivated and enthralled audiences.

Steven's passion for all music ensures that his concerts feature a diverse range of music and never fail to entertain. Steven is also rapidly gaining recognition for his compositions and arrangements, his debut solo guitar work 'Voyager' being reviewed as "proving a worthy debut in this field by a young player whose work is always of interest".