Für Elise Theme by Ludwig van Beethoven (1770-1827) – Arranged for easy guitar. An easy melody and basic first position chord shapes. From Bagatelle No. 25 in A minor (WoO 59, Bia 515) for solo piano, commonly known as "Für Elise" or "Fuer Elise". Fur Elise is one of Ludwig van Beethoven's most popular compositions for piano. It was not published during Beethoven's lifetime, only being discovered (by Ludwig Nohl) 40 years after his death. The identity of "Elise" is unknown; researchers have suggested Therese Malfatti, Elisabeth Röckel, or Elise Barensfeld (see wiki).
Sheet Music and Tab Book
YouTube Video Link
Book Info
Fingerpicking Classical: 15 Songs Arranged for Solo Guitar in Standard Notation & Tab – The arrangements in this book are carefully written for intermediate-level guitarists. Each solo combines melody and harmony in one superb fingerpicking arrangement. The book also includes an easy introduction to basic fingerstyle guitar. Songs: Ave Maria * Bouree in E Minor * Can Can * Canon in D * Eine Kleine Nachtmusik * Emperor Waltz * Fur Elise * Habanera * Humoresque * In the Hall of the Mountain King * Minuet in G Major (Bach & Beethoven) * New World Symphony * Pomp and Circumstance * Symphony No. 5 in C Minor, First Movement Excerpt.
First Edition of Fur Elise
The first edition of the piano score look like this.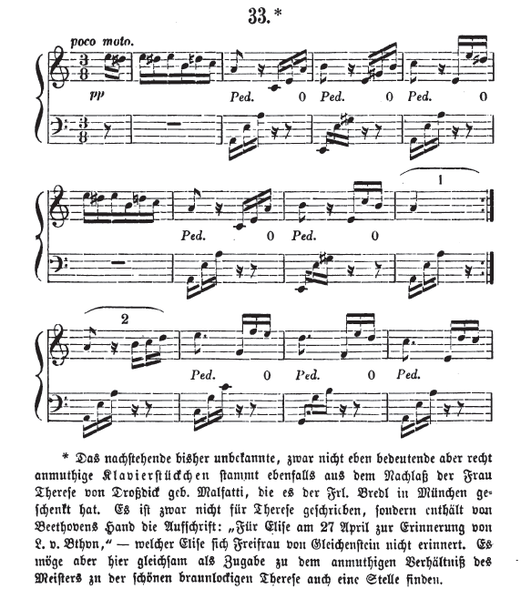 Piano Performance of Fur Elise
Legendary pianist Lang Lang joins WQXR Creative Director Clemency Burton-Hill for another installment of "Classical Up-Close" in The Greene Space at WNYC & WQXR to perform works from him his new album "Piano Book", his first studio album in three years.Via the WQXR's Youtube.
Fortepiano Performance of Fur Elise
As mentioned on the Youtube comments "One has to remember that Beethoven lived in the era of wooden harped pianos. These evolved out of the harpsichord. All had low tension brass and iron strings and were struck with small low mass hammers. High tension metal harped pianos didn't come in to being until 1826 (Babcock). Later improvements include double excapement (Erard,1828) , one piece laminated case (Steinway,1855) , and one piece felt hammer (Dolge, 1911). All these gave us the modern piano. It is truly a product of the Industrial Revolution. Ruxandra's piano looks to be a Viennese fortepiano of about 1795 or so. It has very good touch and resonance. Beethoven's last piano was a Conrad Graff of 1826 and was still of all-wood construction."
The fortepiano is a bit more similar to guitar with less sustain and a bit harder attack.
A more elaborate guitar arrangement of Fur Elise
Ludwig van Beethoven (1770-1827) Bagatelle no. 25 (woO 59) known as 'Für Elise' composed in 1810 transcribed for classical guitar. Played on a original PetitJean period guitar. This comes via Rolf van Meurs on YouTube.