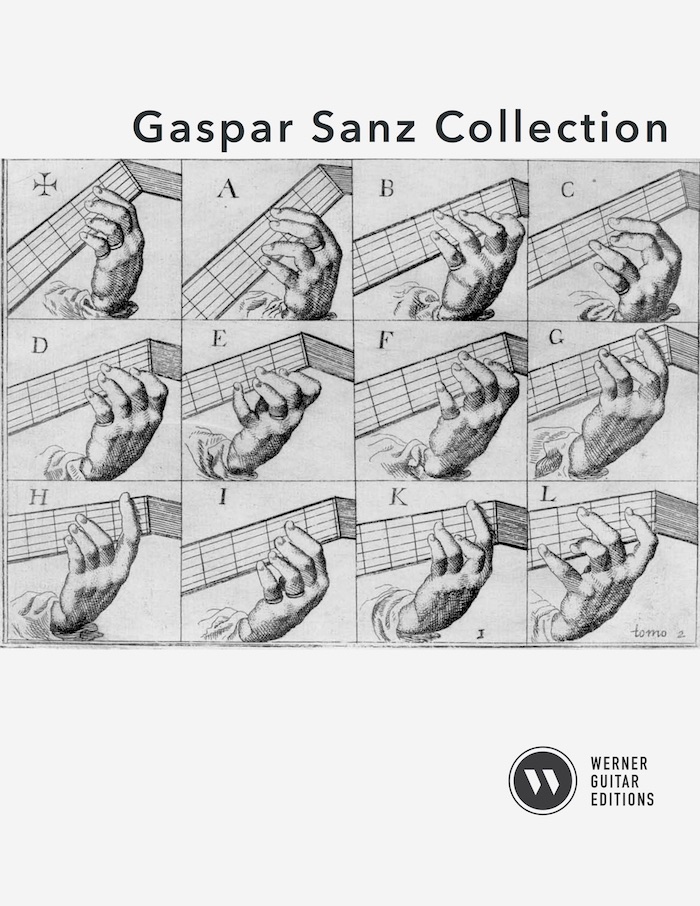 Gaspar Sanz Guitar Collection
Arranged & Edited by Bradford Werner
PDF includes two editions: Notation Only & Notation + Tab
Level: Intermediate Grades 3-7
Works: Villanos, Fuga, Españoletas, La Cavalleria de Nápoles con dos Clarines, Las Hachas, Canarios
These popular works by Gaspar Sanz (1640-1710) originate from his Instrucción de música sobre la Guitarra Española for Baroque guitar. In 1954 Joaquín Rodrigo composed his guitar concerto Fantasía para un gentilhombre on themes from these works. A degree of arranging for modern guitar has taken place, including adding the sixth string of the modern guitar to complete logical musical lines. Besides that I have tried to keep to the original as often as possible. You can also find some of these works in hardcopy in my Classical Guitar Tab book on Amazon.
Buy the PDF at my sheet music store
Videos for Each Piece
Original Baroque Tablature
Click on Image to enlarge. Remember that it's upside down (the bottom line is the high pitched string) and that he only had five strings so the top line is the low 5th string. My edition above uses modern tablature.
Hope you Enjoy!