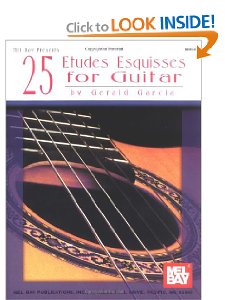 Theme of this week: "Favorite Etudes"

You might have noticed that on my theme weeks I try to avoid the MOST obvious choices. So, in the German Baroque I avoided Bach and this I'm avoiding Sor and Brouwer due to their extreme popularity.
One of my favorite recommendations for contemporary works are these excellent etudes from Gerald Garcia. These etudes, as the composer suggests, are for the intermediate student from the third year of study onward (I would move that down to one or two years for some of the easier ones). Some of the later etudes are pretty difficult…just so you know…
Level: Advanced-Beginner to Intermediate
Check out this praise from John Williams:
These studies are what students should be but usually are not: they use and develop specific areas of technique in a most musically imaginative and pleasurable way. The more traditional study collections usually take a single technical pattern for each study which then become like extended exercises. Garcia's studies give the same benefit and also give you pieces of music. – John Williams, 1992
I love these because they have a variety of textures and moods ranging from aggressive raw sounds to beautiful choral textures. But I really like them because they are successful! That is, students are able to perform them and gain experience because the studies are so well suited to the modern classical guitar.
Garcia is an excellent guitarist himself and highly praised. He's also well known as a teacher, arranger, and composer. You can study with him at various festivals if you are interested.
He has a website that will amaze students (there are sheep randomly flying around, a pink elephant with wings, a dancing guitar, and more). It's a bit loony but lovable too. Sometimes the sheep don't appear and you get flying image errors everywhere. Might need an upgrade.
Learn more or buy the etudes:
Listen to Samples or Buy the mp3:
Other posts from Favorite Etudes Week: