The amazing Jordanian-Canadian guitarist Dr. Tariq Harb has a new double DVD covering Segovia's collection of Sor studies. Check it out as it's sure to be incredibly helpful and inspiring!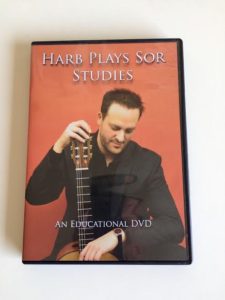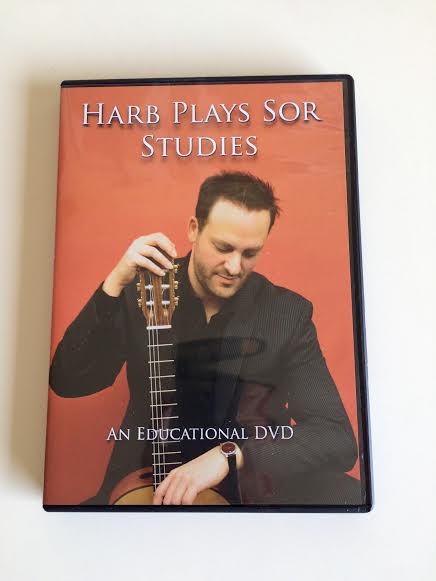 Harb Plays Sor Studies
An Educational DVD
Two DVD set. Colour / English / 221 mins.
Learn more or buy: tariqharb.storenvy.com
In this DVD, guitarist Tariq Harb takes us on a journey exploring the Fernando Sor (1778-1839) classical guitar studies compiled by the great Spanish guitar legend Andrés Segovia (1893-1987). Segovia chose to publish twenty of his favourite Sor studies, and to place them in order of difficulty, length, musical and technical content. Despite them being studies by design, guitarists nowadays find these compositions to be highly musical, and therefore consider them as performance repertoire for the concert stage. From an educational standpoint, these studies serve their purpose well by providing a comprehensive pedagogical bundle of technical and musical tools for the developing guitarist, as well as for the established performer as they do offer exciting challenges for every performance level. All in all, this educational DVD is a journey through the musical mind of one of the most influential and successful classical guitar composers of all time.
Example Promo Video
This is an excerpt from Tariq Harb's DVD 'Harb Plays Sor Studies'. The educational segment precedes the performance segment.
Skip to the Educational Segment of Sor's Study No.3 (Segovia): 0:30
Skip to the Performance Segment of Sor's Study No.3 (Segovia): 7:55
All 20 Sor/Segovia Studies on the DVD have a similar format, making the complete DVD set approximately 4 hours in length.
Tariq Harb Videos
I thought I'd just mention that if you don't know Tariq already he's been featured on the site before. Winner of both the First Prize and the Audience Choice Award in the Barrios WorldWideWeb Competition 2011, First-Prize winner in the Montréal International Classical Guitar Competition 2011, as well as the 'Governor of Tokyo' prize winner in the Tokyo 55th International Classical Guitar Competition, he's really on the rise! Harb holds a Doctor of Musical Arts degree from the University of Toronto, a Masters in Performance degree from McGill University, and Bachelor of Arts and Bachelor of Commerce degrees from Concordia University. Harb joined Concordia University's Music Department as a faculty member in Fall 2015. Tariq Harb is a Savarez and a LaBella Strings Artist.