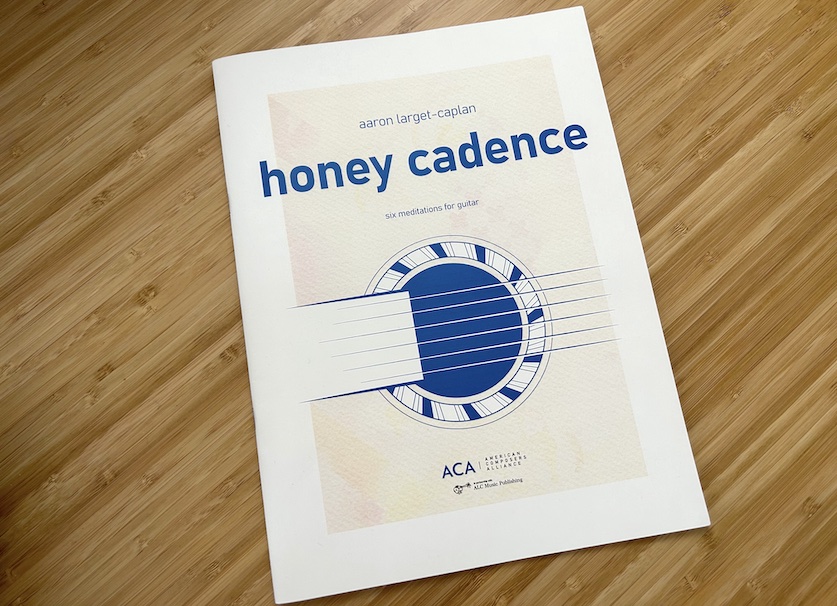 Honey Cadence: Six Meditations for Guitar 
By Aaron Larget-Caplan
Sheet Music Purchase: Autographed copies at Aaron's Bandcamp. Physical or pdf sales at the American Composers Alliance. Or see more of his offerings at Aaron's Store.
Liston to the Composer's Recording: Listen on Aaron's Spotify or see more album options at his Store. The album honey cadence has earned over 3 million streams since its release in April 2022.
Big thanks to Aaron Larget-Caplan for sending me his wonderful new collection of solo works for guitar. These are beautiful compositions suitable for professionals and intermediate students alike. They are decidedly modern in language and form but also very accessible to general listeners. Each composition exploits the instrument in a unique and best of ways, hitting the sweet spots and using modern techniques without overreaching. Honey Cadence fills an important gap in terms of composition in the classical guitar repertoire. They are mature musical works but the level is intermediate depending on your tempos and expected refinement.
I enjoyed these so much I decided to record a video of the work Honey Cadence with Aaron's permission. You can also view it on my YouTube. Be sure to also listen to the composer's recording, links above.
Composer's Note:
At the end of 2021, I began composing the music that became the six pensive solos of honey cadence, issued on Tiger Turn, and the first of my compositions to be recorded and published.

I began by sketching melodies and gestures that were floating in my head with the intent of creating an album of meditative intimacy, which though on the quiet side, would be able to keep the listener's attention.

I explored through improvisations that highlighted my favorite qualities of the guitar: tone and timbral variation, note doubling, harmonics, pitch bends, and percussion.

Influenced by John Cage, Agustín Barrios, bits of Bach and Villa-Lobos, and many New Lullaby Project composers, with nods to Ravel and even the band, Queen, I tried not to get in the way. The latter two weren't necessarily conscious, but I can't not hear them now.

Each title has a connection to music, as well as general language, i.e., 'anticipation' is a musical ornament and linguistically expresses expectation or prediction.

May the music add some sweetness to your life.

via American Composers Alliance
Contains the following 6 works of Larget-Caplan:
sweet nuance
honey cadence
moving still
minding play
hidden anticipation
slight nuance