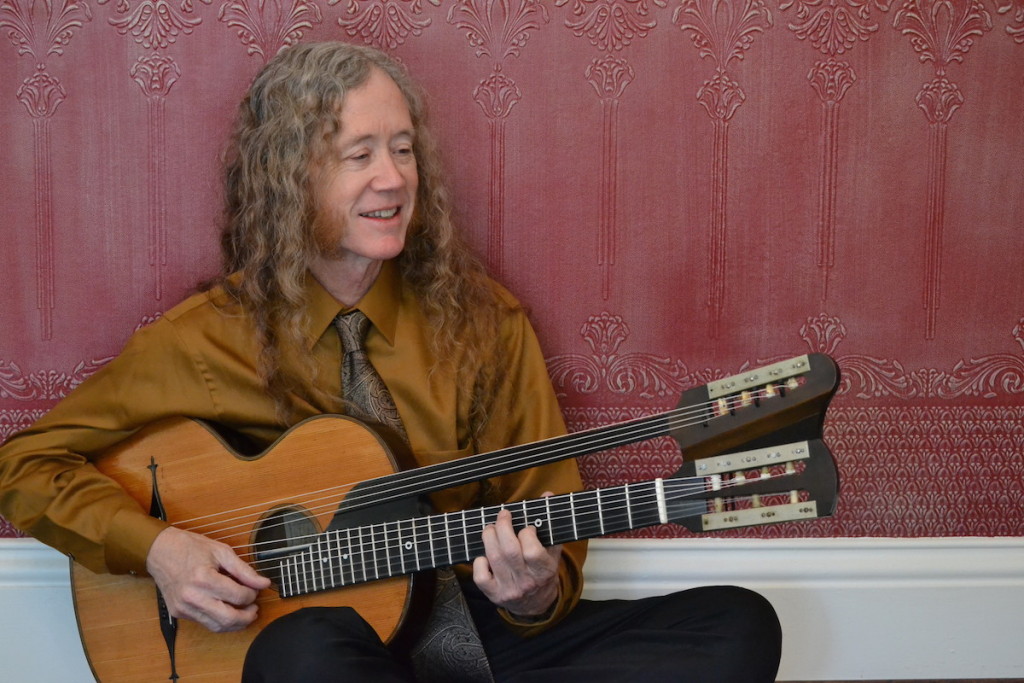 I'm very excited to present this wonderful interview with one of my favourite and most respected guitarists, John Schneiderman. When I think of great playing and interesting projects I think of Schneiderman's many recordings and concerts. Just the other day I was listening to his fantastic recording of Bernhard Joachim Hagen on lute. Years ago as student I had the opportunity to play for him in a masterclass and I can also say he is one of the great teachers of our day. Big thanks to John for sharing his time! You can learn more about John online:
Website: johnschneiderman.com
YouTube: John Schneidermann on YouTube
Albums via Amazon: John Schneiderman on Amazon
Interview with John Schneiderman
with Bradford Werner via email, May 2015
BW: Early in your musical career what inspired you to transition from a focus on bluegrass and folk to Baroque lute and early guitar? How did that mix influence your approach to music?
JS: I have always been interested in different instruments and different styles of music. There never really was a "transition", there has always been overlap. My mother taught me to play the ukulele when I was six years old. I began piano lessons at age seven. When I was nine my father gave my mother a guitar for Christmas. It was a nylon-string Goya. She took lessons at Dick Lurie Studios in Cleveland. She was studying out of the Aaron Shearer method. When she put it down I would pick it up and work on it. I remember learning my first Aguado study in A minor from that book. After hearing Pete Seeger perform I saved some money from mowing lawns and bought a Kay five-string banjo at a pawn shop. My first banjo teacher was Bob Goldberg, a graduate student from Case-Western Reserve University, who also taught at Dick Lurie studios. I practiced the banjo until my fingers bled. Bob Goldberg was also an accomplished guitarist, steel-string finger style and flat picking, so I also began studying guitar with him on an all mahogany Harmony. Bob finished his degree, moved away, and at that point I was learning off of recordings. I would slow the lps down to half speed for the faster bluegrass pieces. I switched to another teacher at Dick Lurie Studios, his name escapes me at the moment. We worked out of Frederick Noad's "Solo Guitar Playing" which had just been published. My family moved to California in 1969. At that point in time bluegrass and traditional music was very popular in California, and there were plenty of banjo and fiddle contests to attend. Here is a link to a radio broadcast I did in 1971 with my friend John Corzine:
The DemiJohns on KPFK (SoundCloud)
We were known as "The DemiJohns". Quite possibly the peak of my career! In California I studied banjo, guitar and fiddle with multi-instrumentalist Bill Cunningham. I also continued my classical guitar studies with Christopher Gaynor, a student of Frederick Noad, who had just returned from Vietnam. There had been a lapse in my piano studies, but I resumed at age fourteen with pianist Thomas Whitney. Thom was an organist as well and a baroque expert, particularly Bach. We worked out of the Anna Magdalena and Wilhelm Friedemann Bach books which is where I encountered my first tables of baroque ornaments. I refer to those tables to this day!
BW: Can you tell us a little about studying with Frederick Noad & Eugen Dombois? Dombois, in particular, seems to have influenced an entire generation of lutenists ranging from Hopkinson Smith, Paul O'Dette, Rolf Lislevand and many more.
From 1974 to 1978 I studied with Frederick Noad. Fred was the person who introduced me to the Renaissance lute. He was working on his anthologies when I studied with him, and I loved the idea of playing music that had been neglected and possibly not heard for hundreds of years. So much Renaissance lute and baroque lute music is transcribed for the guitar, and I became interested in what it would sound like on the instruments it was intended for. I bought my first Renaissance lute in 1976. Alongside of my classical guitar and Renaissance lute playing, I was still playing bluegrass and traditional music on the banjo and steel-string guitar. I also was playing a lot of electric bass. It seemed that everyone needed a bass player. I played in Rock bands at junior high and high school dances. I also played in my high school (Corona del Mar) jazz ensemble. We were good! Many of the players went on to successful careers in music: Eric Marienthal, Rick Savage, Michael Hamilton to name a few. My sophomore year we competed at a national festival in Mobile Alabama and came in second. That same year I auditioned and landed the electric bass position in the All Southern California High School Jazz Ensemble. That band included some of the finest musicians I have ever worked with including legendary drummer Carlos Vega. Here's a link to that band:
Pygmi Dance – 1974 All-Star Jazz Ensemble (Facebook)
I was self-taught on the electric bass, but I studied improvisation with saxophonist Warne Marsh.
I purchased my first baroque lute in 1981. I became frustrated and put it down after a couple of weeks. A few months later, realizing it would be difficult to sell, I approached it again with better results. Robert Strizich and Catherine Liddell were living in San Diego at the time while Bob completed his doctorate in composition. I studied with them and at their suggestion applied to the Schola Cantorum in Basel, Switzerland which is where I studied with Eugen Dombois. There were two lute classes there, one group studied with Eugen Dombois and the other group studied with Hopkinson Smith. I chose to study with Dombois because it seemed like anybody who was anybody in the lute world had studied with him, including Hoppy. I also contacted Anthony Bailes who was in Basel to study with him as well. He was reluctant to take me on since I was studying with Dombois, but I assured him there would be no overlap in repertoire. I studied German and English music with Dombois, and French and Italian music with Bailes. Dombois was a musician's musician. He no longer played the lute, but if he needed to demonstrate he would read directly from the lute tablature, Renaissance or baroque, and play on the harpsichord or clavichord. During one lesson I was at A=415 and the clavichord was at A=440. The keyboard did not have a lever to change the pitch, so Dombois read from the lute tablature and transposed down a half step. I did not hear anything he said for the next twenty minutes because I was still trying to wrap my mind around what he had just done, and with perfect ease. Bailes encouraged me to look at paintings from the period to help capture the attitude, and he also encouraged me to listen to performers such as Frank Sinatra in order to appreciate his amazing timing. Here's a couple of links to my baroque lute playing:
Sonata in D Minor: Gigue by Silvius Leopold Weiss (YouTube)
Karl Kohaut, Lute Concerto in F Major: Allegro (YouTube)
BW: You've had a very successful career in early music having performed all around the world and recorded for various record labels. What do you find most appealing about early music?
For me playing early music is poor man's time travel, and I like to travel to places that are not too heavily tread upon. Virtually all of my recordings have been world premier recordings. I have studied but am not drawn to the typical "chestnuts" that everyone plays. To do something different you either have to play early music or new music. The last decade I have spent exploring the neglected seven-string Russian guitar repertoire with my colleague Oleg Timofeyev. Being a Russian guitarist at the beginning of the 21st century is like being a lutenist at the beginning of the 20th century, it's a wide open field, an absolute gold mine waiting to be explored, with many hidden gems. Here's a couple of links to my Russian guitar playing:
Etude Four by Andrey Sychra (SoundCloud)
Etude No.1 in B Minor by Vasilii Stepanovich Sarenko (YouTube)
BW: What have been some of the most satisfying musical experiences you've enjoyed in your career?
There have been many satisfying musical experiences. As a kid hanging out in the parking lots at banjo fiddle contests learning tunes from older players from all over the country was a great joy. Living in Basel and being within walking distance of great concerts in amazing venues by ensembles from all over Europe was also wonderful. So many experiences, it's really hard to narrow it down. I hope some of them are yet to come!
BW: Has it been tricky career-wise balancing both the lute and early guitar? Or has it ultimately opened up more opportunities and musical experiences?
Both. I traverse between the classical guitar world and the early music world, very different worlds! A lot of guitarists don't "get" me because I play without nails (as did Sor, Tarrega and many others), I play on old instruments, some with additional basses, I use my left-hand thumb, I play in different tunings etc. The early music world embraces all of these things, but it's taking the classical guitar world a while to catch up.
BW: I sometimes find the mainstream classical guitar scene is a bit too focused on the guitar itself. Have you found the early music scene enjoys more of a multi-instrumental appreciation focused on the music itself?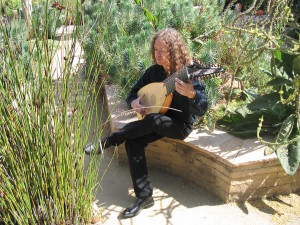 I think I partially answered that question in my previous answer. The classical guitar world is very narrow minded in terms of repertoire, technique, tone production, instrument types etc. The classical guitar world is very "macho" and many people approach the instrument like athletes rather than musicians. This approach is most obvious in early repertoire. I often feel guitarists are trying to conquer Bach's music rather than understand it. I have performed at the Guitar Foundation of America Festival three times, and it's a bit like showing up with a harpsichord in a room full of people with Steinways. This seems to be gradually changing, but it will take time.
BW: I have a very specific question about your amazing Baroque Lute Duets CD (which I love by the way). I was wondering how you recorded it since the parts are so tightly knit together? It almost frightens me!
Well, you can't use a click track because the music does not stay at one tempo from start to finish, so I use what I refer to as "dummy tracks". I did that CD and a CD of Mertz duos the same way. Both of them were recorded by engineer, producer, graphic designer and label owner Vince Go. Before the sessions I would record "dummy tracks" which were a combination of both parts plus some counting for cuing. I would have to come up with a dummy track for each piece that I was comfortable playing either part along with. I sent the dummy tracks to Vince, who cloned them usually three times, and then I would play each part three times along with the dummy tracks. It made Vince's editing job very easy, because the time codes were identical on each track. He actually did the editing without consulting the scores. For a number of years it was difficult to promote those recordings because I could not play both parts. I now perform all of that music with former student and current colleague Hideki Yamaya with whom I have also recorded several CDs including the guitar duets of Adam Darr. Here's a link to a track from the Mertz CD:
Tarantelle by Johann Kaspar Mertz (SoundCloud)
BW: I've been loving the YouTube recordings you've been posting. Lute seems so far removed from modern technology yet people (even non-musicians) seem to love it. Do you think early music is getting more exposure and increasing in popularity?
Absolutely. When I recorded my first baroque lute CD there were only about a half a dozen baroque lute CDs available. Now there are hundreds. There are probably more lutenists today than any time in the past.
BW: Do you have any words of advice for guitar students looking to start a career in music?
Develop as many skills as you can. Find interesting projects. Don't do what many people have already done. Try to be the best.
BW: What's next for John Schneiderman?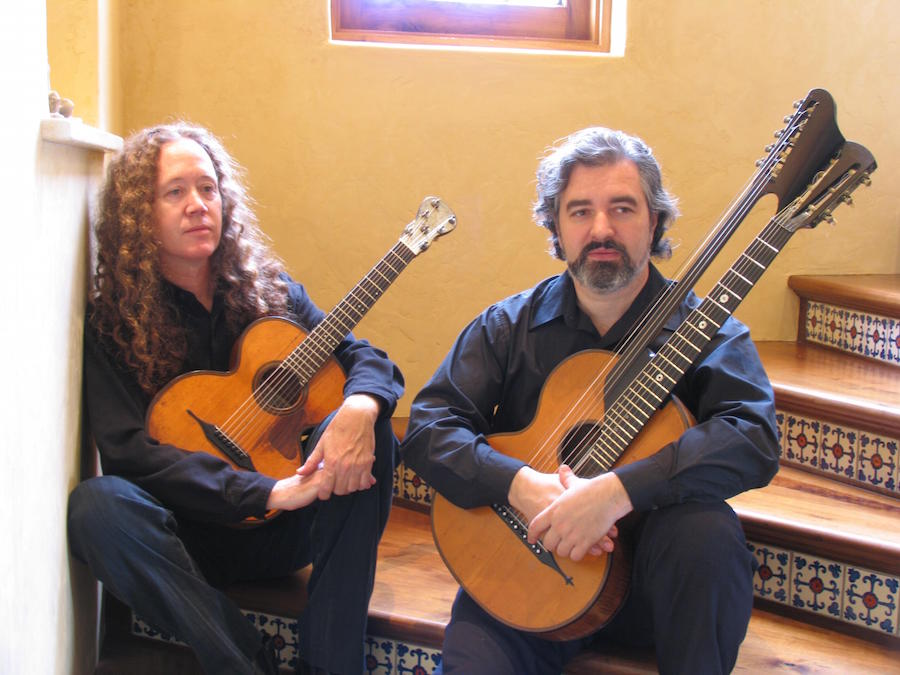 Here is a list of my projects that are completed waiting for release:
The Russian Guitar Collection (5 CDs) with Oleg Timofeyev:
Disc One: Music of Andrey Sychra
Disc Two: The Muscovite School: Music of Semion Aksionov, Mikhail Vysotsky & Alexander Vetrov
Disc Three: The Earliest Music for the Russian Guitar: Music of Held, Kamensky, Sychra, Lvov & Svientsky
Disc Four: The St. Petersburg School: Original Pieces and Arrangements by Andrey Sychra & Vladimir Morkov
Disc Five: The True Romantics: Music by Nikolay Aleksandrov, Fiodor Zimmerman & Vasily Sarenko
An Evening With Wilhelmine: Adam Falckenhagen, Opera Nuova: Six Concerti for Lute, Flute & Cello (2 CDs) with Jeffrey Cohan & William Skeen. Frederick the Great's sister Wilhelmine was instrumental in transforming Bayreuth into a great center of culture, where she employed Adam Falckenhagen, who wrote exquisite Concerti for obbligato baroque lute, baroque flute and cello. Wilhelmine played lute and her husband was a flutist, as was his brother-in-law Frederick the Great, who was surely familiar with these concerti for three instruments.
What Artemisia Heard; Music From the Time of Caravaggio and Gentileschi: This is a multi-media recording project that outlines the life of the painter Artemisia Gentileschi, who traveled widely and was a close friend of many musicians including Francesca Caccini and Nicholas Lanier. Recording sessions at Skywalker Sound with Grammy nominated ensemble El Mundo.
Interview End
Learn more about John Schneidermann:
Website: johnschneiderman.com
YouTube: John Schneidermann on YouTube
Albums via Amazon: John Schneiderman on Amazon