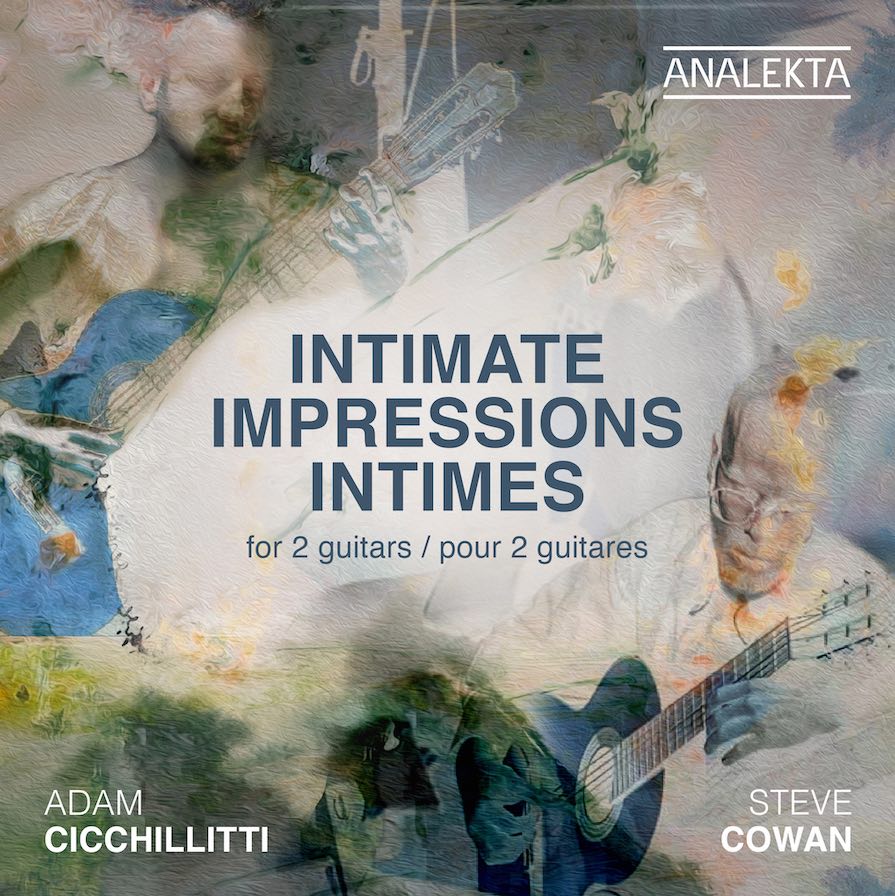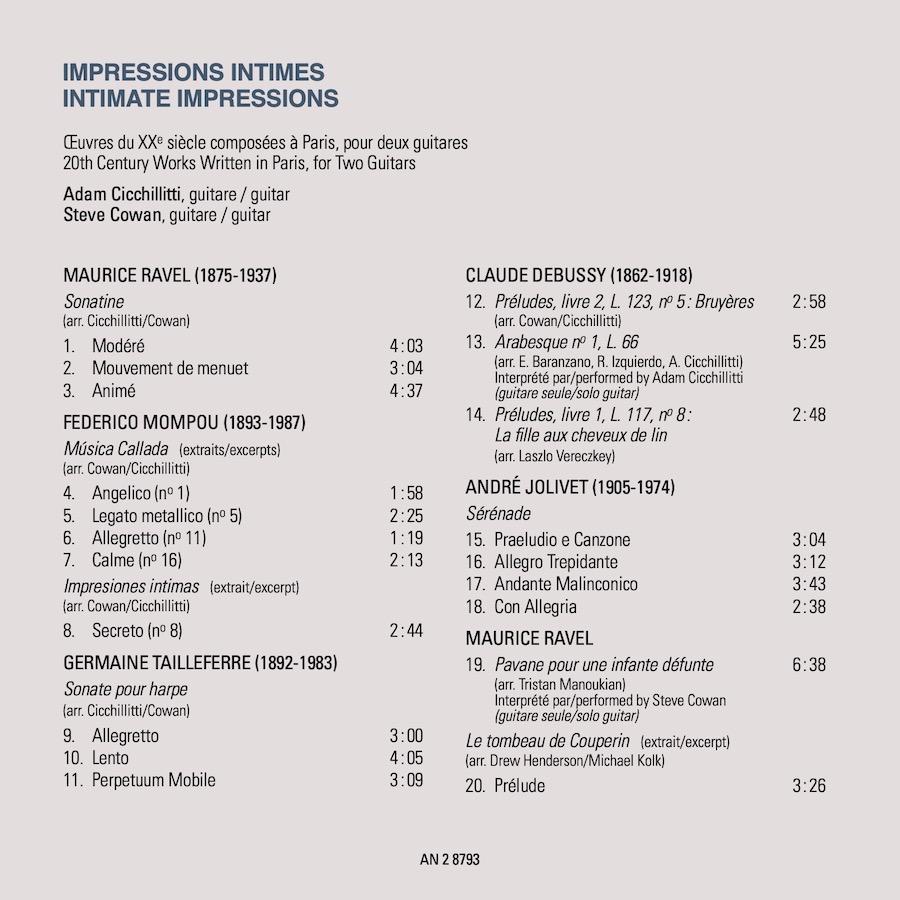 Intimate Impressions
20th Century Works Written in Paris, for Two Guitars
Adam Cicchillitti and Steve Cowan
Analekta, 2021
Buy, Learn, or Listen: Spotify, iTunes, Amazon, and more.
Intimate Impressions by Canadian guitarists Adam Cicchillitti and Steve Cowan feature beautiful performances of 20th century works written in Paris. From refined phrasing, high virtuosity, as well as gorgeous tone and recording quality, Intimate Impressions is one of the finest albums of 2021. Listeners can enjoy some fantastic arrangements of 20th century master composers such as Debussy and Ravel as well as André Jolivet's Sérénade, originally written for two guitars. The album also features the music of Germaine Tailleferre and Federico Mompou and a solo work for each performer to showcase their individual playing style. I found the Jolivet Sérénade to be the most interesting work in terms of combining compositional style with the full spectrum of articulations and colours capable in guitar orchestration. Many of the musical textures and effects work exceptionally well along with the musical motifs and Cicchillitti and Cowan pull it off beautifully. The Sérénade offers more authentic opportunities to vary the colour and texture compared to the arrangements that are better served by a more pianistic style on guitar. That said, the blending of the two on the Ravel Sonatine is superb, making the music feel right at home on two guitars. Musical playing and virtuosic flourishes make this a must-listen album for general listeners and guitarists alike. Highly recommended.
Album Description (read more of the booklet here).

This recording is composed of music originally written for piano, harp, or two guitars by leading 20th century composers who spent the bulk of their careers working in Paris. The arrangements, the majority of which are by the Cicchillitti/Cowan duo, eloquently illustrate that the tone colours, intimacy, and pure lyricism of the composers' styles are ideally suited to the guitar, and that the harmonic language translates beautifully to a guitar duo.

The recording also bears witness to the striking contrasts in compositional styles of the period and of the individual composers. So-called impressionist, neoclassical, neoromantic, or surreal tendencies all had their adherents, as this recording reveals. Compare the sensorial lyricism of Claude Debussy to the very personal neoclassical style of Maurice Ravel or the improvisatory and intimate miniatures of Federico Mompou to the biting wit and deliciously spicy character of Germaine Tailleferre's music. It is also a wonderful opportunity to savour the dissonance and polytonality of André Jolivet's Sérénade, the only original work for two guitars included in this highly attractive recording.
Listen to some of the album, I recommend the Jolivet's Sérénade but also the wonderful blending on the Ravel Sonatine.
Here's a solo performance of repertoire from the album via Cicchillitti's YouTube.