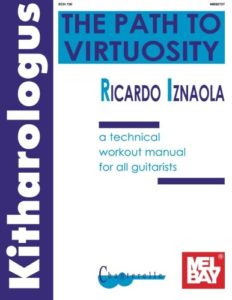 Kitharologus: The Path to Virtuosity by Ricardo Iznaola – This book is organized progressively from beginner to extreme advanced. It's excellent, amazing technique exercises and the progressive sections are a great idea to help organize students. It covers a wide array of technique exercises and also a significant amount of fingerboard knowledge. Beware however, although the book starts out super easy (with playing simple open strings), it gets very difficult fairly fast. This is not a criticism but you should know that you will not just zoom through the book. I have difficulty with many sections of this book so students should go slowly through the book thoroughly accomplishing one section before moving on to the next. The best thing about this book is that it gives students very clear goals and students can practice the appropriate section as part of their practice routine.
Buy the Book or Look Inside
Publisher's Text: Guitar virtuoso Ricardo Iznaola's exciting technical workout manual Kitharologus is designed to help all guitarists attain virtuosity, regardless of their present playing ability by following well laid-out practice routines of basic skills. Covering all grades from novice to expert, this book is certain to be enthusiastically adopted by all serious guitarists wishing to develop their technique to the maximum.