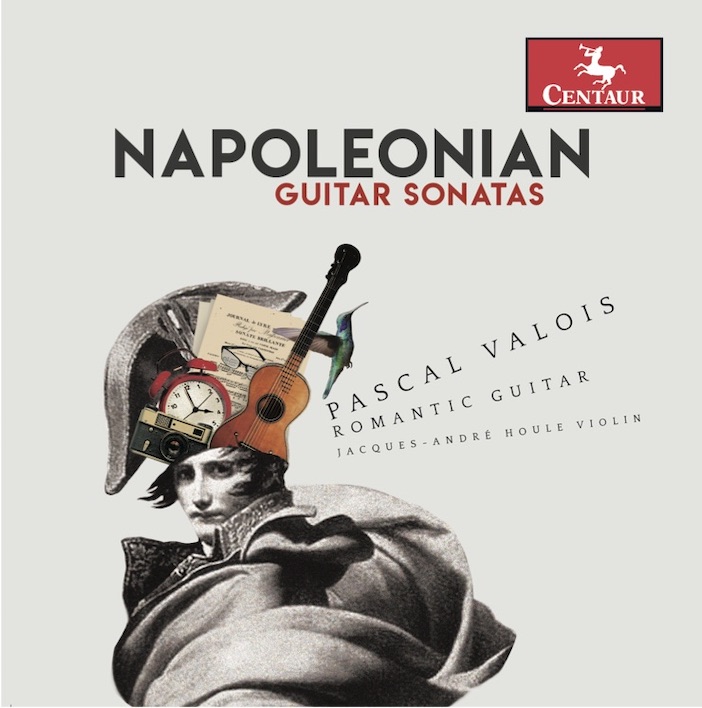 Napoleonian Guitar Sonatas
with Pascal Valois (romantic guitar) and Jacques-André Houle (violin)
Release date: January 17th, 2020
Label: Centaur Records
Buy or Listen on YouTube, Spotify, Amazon, Apple, hbdirect or his website.
Great to hear this new album of solos and ensembles by Canadian guitarist Pascal Valois on romantic guitar and joined by Jacques-André Houle (violin). It's an album filled period-specific repertoire, some of which has never been recorded. Composers include Antoine de Lhoyer (1768-1852), Louis-Ange Carpentras (1786-1854) and Alexandre Alfred Rougeon-Beauclair (?-c. 1829). Always good to see the support of the Canadian Council for the Arts for this album. Bonus points for releasing it via this YouTube Playlist.
Beautiful repertoire, charming performances, and historically interesting ensemble music make this an exciting new release. I particularly enjoyed the Lhoyer sonata with violin showcasing some excellent ensemble writing and spirited playing. The piece and performance has some sweet moments of elegance but also fire and bite. Enjoy.
Repertoire
Antoine de Lhoyer (1768-1852): Sonates pour la guitare avec un violon obligé, Op. 17, No. 1 (Allegro agitato, Adagio poco lento, Vivace)
Louis-ange Carpentras (1786-1854): Sonate brillante, Op. 1 (Allegro, Adagio cantabile, Vivace)
Antoine de Lhoyer (1768-1852): Sonates pour la guitare avec un violon obligé, Op. 17, No. 2 (Moderato, Adagio, Polonaise moderato)
Alexandre Alfred Rougeon-Beauclair (?-c. 1829): Sonate pour la guitare, Op. 4, No. 1 (Allegretto, Andante, Rondeau allegro)
Album Promo Text
This new album features four French romantic sonatas recorded in world premiere. These three-movement sonatas constitute a major addition to the classical guitar repertoire. They are perfect examples of the French romantic style: robust effects, melodic clarity, unexpected modulations preceded by harmonically static sections, and many dynamic contrasts. They were located at the Music Department of the Bibliothèque nationale de France by Pascal Valois between 2006 and 2008. Pascal writes:

"For this recording, I played on a French guitar built in the 1820s by the Mirecurtian luthier Cabasse-Bernard. Several French guitarists active at the turn of the 19th century praised playing without nails (with fingertips), which provides a smooth, pleasing sound. I adopted this mode of playing to interpret the repertoire of this album as it seemed perfectly adapted to the French music of the early 19th century."

On the other hand, Pascal Valois and Jacques André Houle followed the use of musicians from the Classical and Romantic periods by improvising ornaments and cadences, as in the Adagio cantabile of Louis-Ange Carpentras's Sonata, Op. 1.

Pascal Valois is dedicated to reviving enthusiasm for the guitar scene during the Romantic era. He performs music from the nineteenth-century repertoire by using various period instruments, ornamentation, stylistic practices of the period, as well as improvisation, which was customary in that era. He has been a soloist with many ensembles, among them Rigas's Ensemble Samsara and Montreal's Les Idées heureuses. He has also given masterclasses in many institutions, including the Manhattan School of Music, the San Francisco Conservatory, and the Conservatoire de musique de Montréal. Pascal Valois has received the most renowned bursaries in Canada for guitar performance (Canada Council for the Arts) as well as Musicology (FQRSC and SSHRC).

Born in the US, violinist and violist Jacques-André Houle has been active on the Montreal music scene for over 25 years. Principal Viola of Arion Baroque Orchestra, he is also a founding member of the period-instrument Franz Joseph String Quartet, with which he has recorded four CDs on the ATMA Classique label. He is equally a member of Les Idées heureuses and the Strauss-Lanner ensemble, and enjoys performing regularly with Les Boréades and Ensemble Caprice. With the Montreal Baroque Orchestra, which he co-founded, Mr. Houle performed extensively in the Americas, Asia, and Europe both as soloist and orchestra player. Furthermore, he has performed on the viola d'amore in Bach's St. John Passion with the Orchestre symphonique de Montréal under Kent Nagano, at the Maison symphonique de Montréal. As a musicologist, he has contributed articles to the Encyclopedia of Music in Canada and the Dictionary of Canadian Biography, among others, and prepares liner notes for many Classical CDs produced in Quebec and elsewhere.