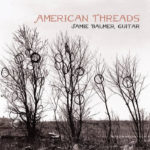 American Threads by Jamie Balmer
Artist Website: jbalmer.com
Album via Bandcamp: American Threads by Jamie Balmer
American Threads features solo guitar music by Kevin Callahan, Phillip de Fremery, Frederic Hand, Thomas Schuttenhelm, and Frank Wallace alongside Jamie Balmer's arrangements for solo guitar of music by Elliott Smith, Edward MacDowell, and Leonard Bernstein (from West Side Story).
---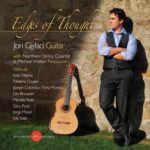 Edges of Thought by Jon Gjylaci
Artist Website: jongjylaci.com
Buy or listen samples: Edges of Thought
This album is a celebration of music from around the world. From the intimate atmosphere of the Parisian salon and the folk idioms of Spain to Kenya's infectious Benga rhythms and the energetic samba beats of Brazil. Albéniz, Chopin, Colombo/Murena, Brouwer, Tadić, Ryan, Morel, Satie.