This month has many exciting new releases by some of my favourite artists. In particular, Grammy award winning guitarist and producer John Schneider from MicroFest Records let me know about two new releases from his label. The music of Alex Wand is a kaleidoscopic wonderland of sound with various instruments forming beautiful soundscapes paired with curious spoken and sung lyrics. The hypnotic music of Tom Johnson spin fantastic melodies that delightfully arch and turn. Johnson's music reminds me of some of my favourite Feldman and Fujieda: contradictory in its simplicity, yet complex with rotating motivic development. Other great projects include the large-scale project of Runar Kjeldsberg who has recorded the complete works of Francois de Fossa, one of the great, and often overlooked, 19th century guitar composers. Canadian guitarist Alan Rinehart has a nice album filled with arrangements of Verdi by 19th century guitarist Johann Kaspar Mertz. Just as guitarists of today post video covers of hits on YouTube, pluckers have been playing 'cover songs' since the the Renaissance with lute intabulations of popular motets. Last but not least, Yuri Liberzon gives us an exciting album of Piazzolla including the Historie du Tango with flutist Josué Casillas.
The Great Hunt by Alex Wand
The Great Hunt is a song cycle for chamber ensemble composed by Alex Wand. Based on Carl Sandburg poems, the songs confront death from different perspectives – an old man, a lover, Abraham Lincoln, Pocahontas, a galapagos turtle, a lap swimmer, and more. The music weaves together folk and classical influences, microtonal guitars, improvisation, and speak-singing recitation. The ensemble includes members of wild Up and Partch: Allison Bjorkedal (harp), Erin Barnes (percussion), Alex Wand (voice, guitar), Laura Jean Anderson (voice), Derek Stein (cello), Archie Carey (bassoon), and Christine Tavolacci (flute).
Buy, listen, or read full liner notes via MicroFest Records, or via Amazon.
Plucking by Tom Johnson
American Minimalist composer Tom Johnson has collected a global village of ethnic pluckery to perform his latest composition PLUCKING for nine different plucked instruments (2015). Persian tar, African kora, Indian sitar, Arabic oud, and Japanese koto—along with Western bass, guitar, harp & harpsichord—create a glittering masterpiece of interlocking timbres and patterns, after each instrument performs one of his famed Rational Melodies in pure intonation. Grammy nominated Tom Peters succeeds at Failing: a very difficult piece for solo bass, but eventually fails the ultimate challenge of Doublings for Double Bass (it's OK, he is supposed to: and he lasted longer than anyone else!). Producer, Recording Engineer, Editor — John Schneider. Artists: Ric Alviso (Kora), Alison Bjorkedal (Harp), Ric Ederer(Oud), Paul Livingstone (Sitar), Kozue Matsumoto (Koto), Tom Peters(Bass), Pirayeh Pourafar (Tar), John Schneider (Guitar), Richard Valitutto (Harpsichord) , Samuel Vriezen (composer, pianist, poet, and writer).
Buy, listen, or read full liner notes via MicroFest Records, or via Amazon.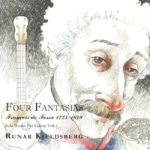 Complete Works of Francois de Fossa by Runar Kjeldsberg
The Francois de Fossa project started in 2012 when Kjeldsberg got a Norwegian government work grant for artists to record the complete known solo works. The project has resulted in three releases where two of them are double albums. All the music is recorded on an original period instrument. Volume 1 and 2 is recorded on a René Lacôte from 1820 owned by Prof. Erik Stenstadvold. And volume 3 is recorded on Kjeldsberg's own Gennaro Fabricatore from 1830. This is, as of today, all the known solo works by de Fossa. However, it is likely that we will discover more pieces in the near future, since there are holes in the opus numbers. For example: we have Fantasia 1 and 3, but not 2.
Artist Website | Spotify | iTunes | Tidal | CD Sales on CDON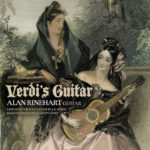 Verdi's Guitar by Alan Rinehart
Ravello Records proudly presents VERDI'S GUITAR, an album by guitarist Alan Rinehart made up of six fantasies for solo guitar by 19th-century composer guitarist/composer Josef (Johann) Kaspar Mertz. Each fantasy is based on an opera of the great Giuseppe Verdi, including such famous works as Nabucco, Rigoletto, Il Trovatore, and La Traviata.
Artist Website | Ravello Records | Amazon | iTunes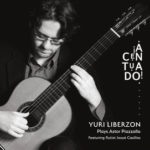 ¡Acentuado! by Yuri Liberzon
¡Acentuado!, the second album of classical guitarist Yuri Liberzon, has been released on major digital platforms and the traditional CD format. The ten-track recording features Argentine-born Astor Piazzolla's six Tango-Études and all four movements of Historie du Tango: Bordel 1900, Café 1930, Nightclub 1960 and Concert d'aujourd'hui. Josué Casillas – Flute.
Artist Website | Bandcamp | Amazon | iTunes