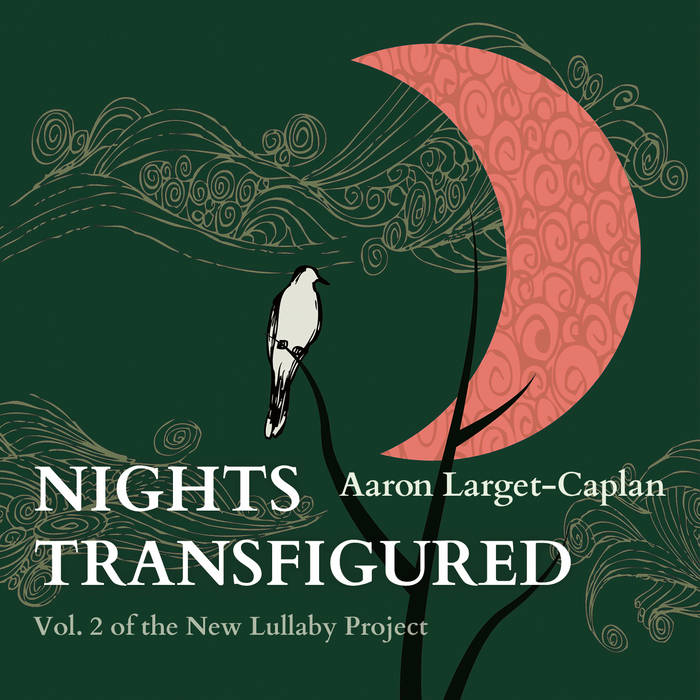 Nights Transfigured – Vol.2 of the New Lullaby Project
Aaron Larget-Caplan, 2020.
New Lullaby Project
Buy or Listen to Samples: Aaron Larget-Caplan, bandcamp, Amazon, iTunes
Great to hear the second instalment of the New Lullaby Project by Aaron Larget-Caplan. The New Lullaby Project actively commissions new music lullabies by contemporary composers. For Volume 2, Nights Transfigured, the compositions were written between 2008 and 2020 by 14 composers from Australia, Austria, France and the United States. As he describes it, "these new lullabies give a compelling argument for the listener to examine their relationships to contemporary music, the lullaby, and how to bridge the chasm between audience and living composers". You can view the extensive and interesting album notes here.
Another cool aspect of this project is that the scores are being released as well. The scores for the first volume of lullabies are available via the American Composers Alliance. You can also buy it along with other releases via his bandcamp merch store.
Nights Transfigured, Volume 2 of the New Lullaby Project by Aaron Larget-Caplan is an album filled with creativity, virtuosity, and beauty. It's more than an album release, it's a creative project that encourages interaction between the performing artist and composers but also between the compositions themselves. Each composer approaches the lullaby in a new creative way allowing the listener to engage with the album as a conceptual whole. From colourful sensitive phrasing to virtuosic execution of soothing new music textures, Aaron Larget-Caplan's playing is exquisite. Highly recommended.
A Word From The Artist
This year I'll be having some artists write us info and stories about their albums. This will offer us an insider view into recording an album, working with composers, and more about the creative process. Thanks so much to Aaron Larget-Caplan for sharing his story with us.
Nights Transfigured is the 2nd album dedicated to compositions written for my New Lullaby Project. All of the works were written between 2008-2020 by composers from four countries: Austria, France, Australia and the US. Though it had been on my to-do list for quite a while, the first album 'New Lullaby' was released in 2010, the cancellation of all concerts and travel due to Covid presented an opportunity.

The album was by far the most hands-on recording project I've done. I built the studio in July, started experimenting with mics and recording in August, recorded the album in September, and did the editing myself in October, all a first for me. Longtime collaborator and recording mentor Steve Hunt, jazz fusion pianist for Allan Holdsworth, did the mixing and mastering.

The project was inspired as a means to bridge the chasm that exists between new music and audiences, and composers with writing for guitar, for who's afraid of a lullaby?! Only two composers on New Lullaby are guitar players. A little more than half of the composers on Nights Transfigured are guitarists. Out of the 60+ premiered only 12 of the composers have played guitar, with many of the non-guitar composers having their first foray into writing for the instrument. Composers who studied/played guitar: Garrett Shatzer, Agustín Castilla-Ávila, Vineet Shende, Roger Éon, Thomas Schuttenhelm, James Dalton, Barnaby Oliver (electric). First guitar solo: Alan Fletcher, Thomas L. Read, Patricia Julien, and Demetrius Spaneas.

They are not meant to be Brahms-like lullabies. Some will come across clearly, while others may need repeated listening, and even reading the notes to find how the composer approached the lullaby. Everyone has a different favorite!

I'm often asked how I meet the composers and collect the new works. Most of the composers I met through their music by attending concerts or recommendation from other performers and composers. Some have gone on to write multiple works (Trester: 3 lullabies, viola-guitar duo, song cycle; Read: Quintet with strings, cello-guitar duo), and some have become dear friends. I love working on music that I haven't heard before and needing to find a realization of it through the dots and symbols on the page. My favorite qualities of the classical guitar are its variation of timbre, delicacy of sound, warmth, flexibility, and dynamic range. It just happens that I found the lullaby to be free enough in its requirements to attract composers, not scare audiences, and perfect in its qualities to convey my love of the instrument. – Aaron Larget-Caplan
Repertoire & Composers
Lullaby for D— by Garrett Ian Shatzer 
Perseiden by Agustín Castilla-Ávila 
The moon through the window shines down by Thomas L. Read 
After Many Days Without Rain by Patricia Julien 
Reva's Lullaby by Vineet Shende 
Lullaby in Three Voices by Alan Fletcher 
Berceuse by Roger Éon 
Sleeping Light, Spinning World by David McMullin 
Lullaby for Our Time by Francine Trester 
A world of your own by James Dalton 
A Child Sings at Thanksgiving by Demetrius Spaneas 
Esperanza by Stephanie Ann Boyd 
Wiegenlied by Thomas Schuttenhelm 
The Pillow That You Dream On by Barnaby Oliver