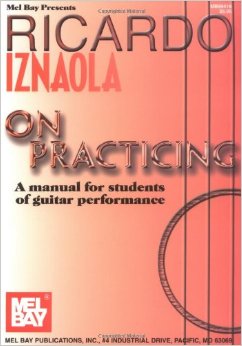 On Practicing: A Manual for Students of Guitar Performance by Ricardo Iznaola – This small manual is great for any musician as there is little reference to guitar specifically. Most of the references are actually to violin and piano pedagogy books, giving it extra legitimacy. Guitarists greatly benefit from insight from other pedagogical influences. For the average student this book will give practical and mature advice on how to practice. Mature musicians will be interested in concepts discussed such as emotional detachment, objective observation, ease of action and the difference between inner and outer poise. The negative factors that interrupt good practice is one of the more practical sections exploring the difficulty level of the material, amount of material, lack of time, and rhythm. Iznaola breaks up the practice session into building time, interpretive time, and performing time. He explores the balance of practicing exercises, etudes, and repertoire in relation to time allocation. The most important section for students will be the essence of problem solving which lies at the heart of the booklet. Here he identifies three main considerations: identifying the problem, understanding it, and assimilating the solution. In the final section Iznaola defines discipline as inner motivation.
Buy or look inside the book on Amazon: Ricardo Iznaola's On Practicing
The small 24 page booklet outlines seven sections:
The Basis of Good Practice (Intro, Inner Poise, Outer Poise)
Negative Factors That Affect Practice (Material and Tangible Factors, Intangible and Psychological Factors)
Purpose and Method of Good Practice
Practice Hygiene: The System of Practice (Materials, Time-Allocation)
Essence of Good Practice: Problem Solving
Memory and Sight Reading: The Question of Accuracy in Practice and the Role of Visualization
The Fuel for Good Practice: The Interaction Between Inner and Outer Motivation (Inner: Discipline, Outer: Duty)
Ricardo Iznaola is a guitar performer, composer, teacher, lecturer and writer. SoundBoard Magazine called him "one of the most seminal players, teachers, and thinkers of the guitar scene." I've used his guitar books on occasion and found them to be extremely thorough and intense. It's nice to see that for this publication he reduced the intensity in favour of concise and clear objectives. You may also know his technique book which is good but not for the faint of heart: Kitharologus: The Path to Virtuosity. I've been going over this more thoroughly and it's great. It starts out super easy but gets very difficult. He also has a book Summa Kitharologica – The Physiology of Guitar Playingwhich is worth checking out if you want to dive deep into the physiology side of playing an instrument.