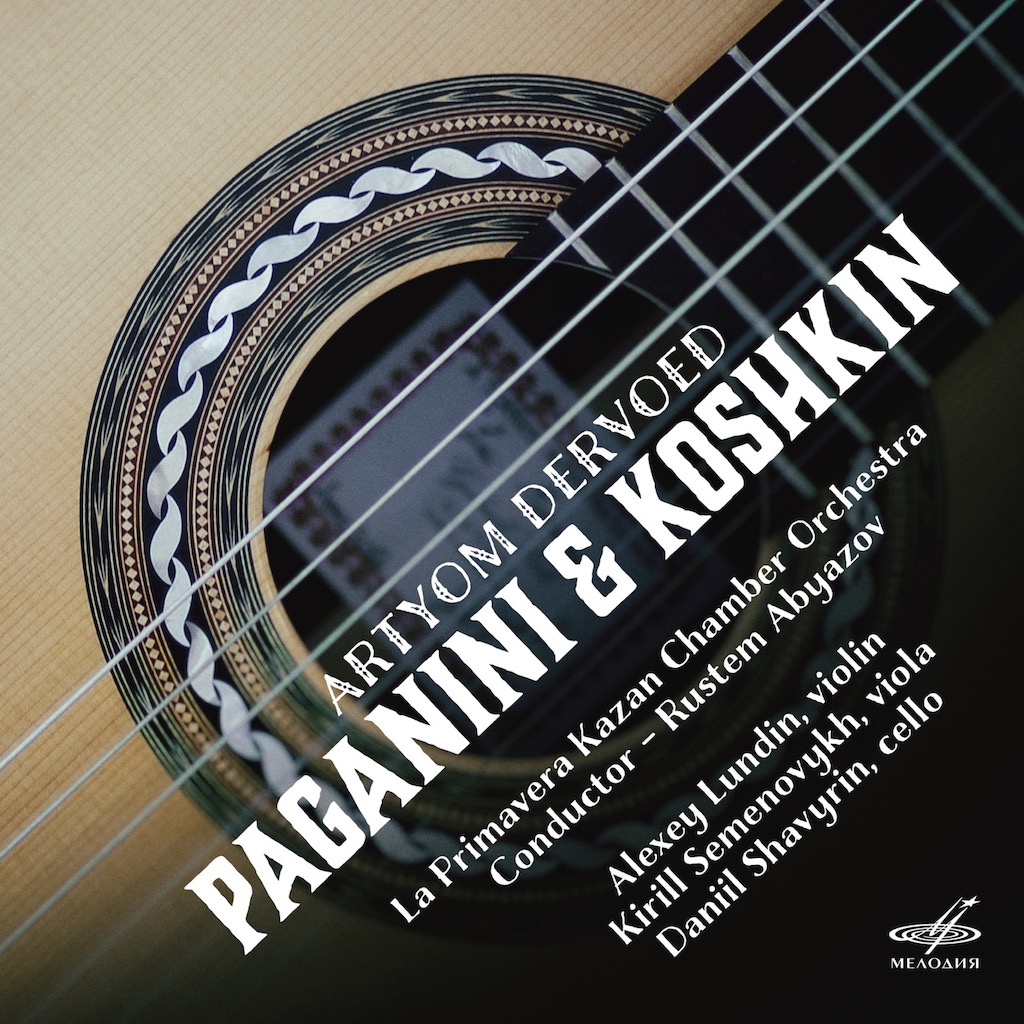 Paganini & Koshkin by Artyom Dervoed
Artist Website: Artyom Dervoed 
Мелодия (Melodiya), 2020
Listen or buy from Melodiya (CD, Digital, Streaming Services), Spotify, iTunes
The amazing Russian guitarist Artyom Dervoed has an exciting new album featuring a live recording of Megaron, a four-movement concerto for guitar and string orchestra by Nikita Koshkin (Moscow, b.1956) and a studio recording of Niccolò Paganini's (1782-1840) Grand Sonata arranged by Koshkin for quartet. The concerto is an incredibly high quality performance and top notch recording for a live performance. You can read the great liner notes for this album via Melodiya (English is located after the Russian). The liner notes have a great write-up about the concerto. First performed in 2006 by Elena Papandreou, the concerto is beautifully orchestrated and nearly 40 minutes so a major contribution to the repertoire.
Dervoed goes through a huge range expression and guitar techniques from lush arpeggiated sections, sweet melodic playing, percussive rhythmic accompaniment, and incisive articulations. With virtuosity to spare, this is a must-listen recording. One thing that really struck me was how rhythmically tight with the orchestra he was, as if they were longtime rehearsal partners. The music has many beautiful moments of sweetness and sorrow but also some very playful movements filled with intense motivic exploration. Below is the video trailer of Koshkin's Megaron:
Nice to have a super high quality studio recording of Niccolò Paganini's Grand Sonata arranged by Koshkin for quartet (guitar, violin, viola, cello). Hearing this work in quartet is endlessly more engaging. Refined phrasing and a gorgeous tone make this one of the great recordings of the work. Below is a video of the Paganini/Koshkin recording process.
Conclusion
Paganini & Koshkin by Artyom Dervoed is one of best recordings of the decade. It includes a beautiful and refined performance of Paganini's Grand Sonata arranged for quartet by Nikita Koshkin. The triumph of the album is the all-encompassing Megaron Concerto for Guitar and Orchestra by Nikita Koshkin along with the Primavera Kazan Chamber Orchestra with Rustem Abyazov conducting. The concerto explores every corner of virtuosic guitar performance along with engaging orchestration and memorable melodies and textures. A fantastic concerto performance and top-notch playing by Artyom Dervoed.
Repertoire & Album Info
Grand Quartetto (based on Grand Sonata in A major, MS 3 by Niccolo Paganini), arranged by Nikita Koshkin, World Premiere Recording. Artyom Dervoed (guitar), Alexey Lundin (violin), Kirill Semenovyh (viola), Daniil Shavyrin (cello)
I. Allegro risoluto
II. Romanze. Più tosto largo. Amorosamente
III. Andantino variato
Nikita Koshkin – Megaron Concerto for guitar and orchestra (Live). Artyom Dervoed (guitar), La Primavera Kazan Chamber Orchestra, Rustem Abyazov (conductor)
4. I. Allegro sostenuto – Allegretto marziale
5. II. Allegro assai
6. III. Adagio
7. IV. Vivo – Andante
Tracks 1–3: recorded at Mosfilm Music Studios, Studio One on August 21 and 22, 2019.
Tracks 4–7: live recording at Saydashev State Great Concert Hall, Kazan, on November 9, 2017.
Sound engineer – Evgenia Zhazhelo.
Recording engeneer – Igor Sigenko (4-7).
Firma Melodia, 2020