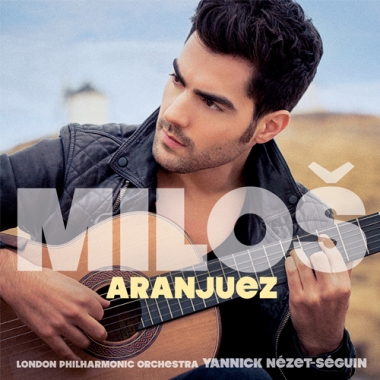 Buy via Amazon: Aranjuez by Miloš Karadaglić
Artist Website: milosguitar.com
Orchestra: London Philharmonic Orchestra
Conductor: Yannick Nezet-Seguin
Label: Mercury Classics / Deutsche Grammophon / et al..
The new release by Miloš Karadaglić begins and ends with two of the most popular concertos in the repertoire: Joaquín Rodrigo's Concierto de Aranjuez (1939) and his Fantasía para un gentilhombre (1954). The album also includes solo favourites: Manuel de Falla's Homenaje dedicated to French composer Claude Debussy, Danza del Molinero (Millers Dance) from El Sombrero de Tres Picos (The Three-cornered Hat), as well as Rodrigo's Invocación y danza. Karadaglić is a chart topper and this album is sure to add to his fame.
Milos Karadaglić plays wonderfully with the excellent London Philharmonic Orchestra conducted by Yannick Nézet-Séguin. Don't just take my word for it, check out this promo clip:
I was skeptical of hearing these works yet again, but to my surprise I was overjoyed to hear a modern recording with high level players and quality recording techniques. The guitar is perfectly balanced with the orchestra and the various imitative motifs that get passed between the soloist and orchestra are very playful realized. Is this a definitive recording? Well, I still love hearing Russell and all the other greats play it but Karadaglić pulls it off with ease and nails the tempos and virtuosic lines. His slow movements are also very touching as he has a nice touch and careful pacing. The orchestra sounds SPECTACULAR with Rodrigo's orchestration getting very careful attention from the recording engineers and conductor. It is certainly the best recording quality I've ever heard. That alone makes this a very desirable album.
The solo works are also good. They are meticulously worked out with articulations and phrasing well executed. Karadaglić shines again at the slow tempos, playing very musically, resulting in a pristine delivery. Invocación y danza, a difficult and mystic work, is very successful. The contrast of the surreal introduction and the virtuosity of the danza is an intense listening experience.
I don't have anything negative to say. The album is so unified in theme, well played, and well recorded that I'm hard-pressed to find fault. I suppose the amount of reverb on the solo works is possibly a bit over the top. However, it works for the Spanish repertoire so that's not much of a criticism.
Many professional guitarists don't give Karadaglić enough credit. They are suspicious of his popularity, his youth, and the fact that he's got a great career going. They are wrong to do so. He is a great player and anyone who can pull off this repertoire with style and musical integrity deserves to recognized as one of todays great guitarists.
Miloš Karadaglić new album Aranjuez is a must have for 2014!
Buy via Amazon: Aranjuez by Miloš Karadaglić

Artist Website: milosguitar.com