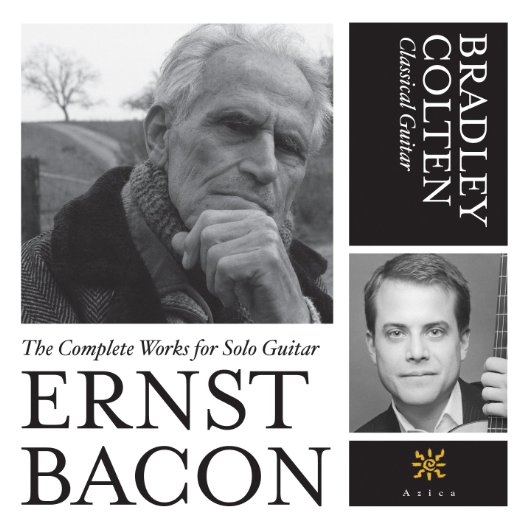 Ernst Bacon: The Complete Works for Solo Guitar
by Bradley Colten, Classical Guitar
Azica Records 2014
Artist website: bradleycolten.com
Buy or listen to samples on Amazon: Ernst Bacon: The Complete Works
Prolific American composer, pianist, and conductor, Ernst Bacon (1898-1990) composed and conducted symphonies, operas, piano concertos, musical theater, ensemble and solo instrumental works and wrote over 250 art songs. He was awarded three Guggenheim Fellowships and a Pulitzer Scholarship in 1932 for his Second Symphony. Surprisingly, we should already know about his guitar work and yet it has been overlooked for the most part. During his life he published only one work for guitar, Parting (1968) which is now out of print. Luckily, Bradley Colten has unearthed another 18 works by Bacon, written for guitar but only in manuscript form until this recording.
The main work on the album is an assembled set by Colten which seems to have been intended by the composer. Four Pieces For Guitar is an eighteen minute set of folk inspired works which includes "Parting," "Fulfillment" "Quiet Hallelujah," and "The Morning Star". There are a number of short works on the album but also a collection of three short canons as well. Here is the repertoire list:
Four Pieces for Guitar (Parting, Fulfillment, Quiet Hallelujah, The Morning Star)
Toro
Nuka, for Guitar
Coon Hollow
Two Cambiataria (Moderato, Comodo)
Three Canons (A Christmas Canon, Anniversary Canon, Marinio)
Just Wondering
The Erie Canal
Bothin Street
Allegro
Episode
Two Pieces (Anything, A Walk in the Hills)
This is a fantastic project and large contribution to the guitar repertoire so thumbs up for Colten.
The works are a nice mix of interesting harmonies, dissonant and consonant equality at times but always lyrical with nice phrasing. There is flip side too, some of the smaller works are pretty much musings on folk tunes and could end up as YouTube hits. In all the works there is enough influence of song and melody to keep them motivically grounded and always very listenable. I read this about Bacon on Wiki: "At the age of 19, Bacon wrote a complex treatise entitled "Our Musical Idiom," which explored all possible harmonies. However, when he began to compose music in his 20s, he rejected a purely cerebral approach. He took the position that music is an art, not a science, and that its source should be human and imaginative, rather than abstract and analytical." The last part about his music being human and imaginative pretty much nails it. There is a modern language and structure in place but all the works have a playfulness and curiosity that makes them quite enjoyable.
Colten's playing is thoughtful and exacting but always with a good sense of phrasing and musicality. He is great at building up tension toward destinations and climaxes. He also handles the more gentle textures such as his thoughtful interpretation of Quiet Hallelujah. There are a number of demanding works such as Allegro and Episode which are concise and articulate on the level of Henze et al. Colten pulls it off beautifully.
I was almost worried that the album would be a bit on the serious side but then Coon Hollow came up which is a fantastic rag or fiddle tune with some curious development of the theme. At first it seems to just be a little jam on a tune but then starts to morph into Bacon's language. Colten calls it "fun, exciting and cheerful; it is, in essence, a lively Appalachian inspired romp." It also shows a very different side to Colten's playing filled with fun and relaxation. The same goes for The Erie Canal which is some kind of freaky jazz work to my ears. This one has some humorous moments but also some frightening motivic realizations.
The recording is very good with a quiet background and clear guitar sound. There is enough warmth and clarity to realize a wide array of interpretive sounds. Once or twice I thought I could hear a bit too much nail in the sound but overall it is a fantastic recording quality so no complaints.
We can only hope that these works will be published in the future, there is something for everyone, Coon Hollow is bound to be a hit and the Four Songs, Allegro, Episode, and Two Pieces will be of serious interest to the classical guitar scene. I could see many of the works formed into sets or played as encore works as well.
Bradley Colten's recording of the complete works for guitar by Ernst Bacon reveal a wealth of new repertoire. With works ranging from serious to fun and exciting this project is a winner. Great playing and recording combined with the exploration of new works makes this a memorable and exciting release. Bravo. -Bradford Werner, thisisclassicalguitar.com
End of Review.
Read more about Colten at his Biography page on his website. "Bradley Colten has appeared in performance throughout the United States and in Canada, France, Germany and Switzerland as a soloist and chamber musician…Bradley holds undergraduate degrees from both Tufts University and the New England Conservatory, and MM and DMA degrees from the Manhattan School of Music. Bradley plays on a Daryl Perry guitar, endorses Hannabach Strings and is an Azica Recording Artist. Bradley has received funding for his Ernst Bacon CD and other related projects from The Ernst Bacon Society and The Diller-Quaile School of Music."