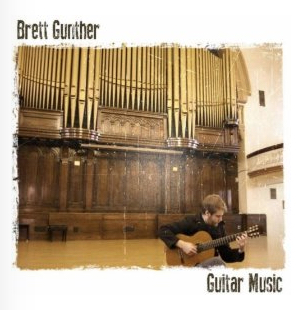 Brett Gunther – Guitar Music
Website: brettgunther.com
Listen to samples or Buy: Guitar Music (via Amazon)
For those of you who don't know Brett Gunther, he is a great guitarist and educator on faculty over at Mount Royal University-Conservatory in Calgary, Alberta. He is also the artistic director of the Calgary Classical Guitar Society. I was just in Calgary last November adjudicating and stayed with Brett which was a treat. He kindly gave me a copy of his CD while I was there. Actually, I was curiously hovering over it at a concert as the cover photo is him sitting on the edge of the stage of the Alix Goolden Hall of the Victoria Conservatory where I teach.
Repertoire:
Junto Al Generalife (Rodrigo)
Nocturnal (Britten)
Un Sueno En La Floresta (Barrios)
Song to the Mother (Moller)
Rito De Los Orishas (Brouwer)
Fantasia On Themes from Verdi's La Traviata (Tarrega)
Koyunbaba (Domeniconi)
Gunther gives a solid performance on all the works but the highlights for me were the Brouwer and the Domeniconi. The Brouwer is a well known piece but not recorded as often as the other works on the album. This track impressed me due its combination of virtuosity and overall mood. With all the twists and turns, insistent motifs, and usual Brouwer "slur it up" extravaganzas it doesn't come off as all frills. Brett's performance gave me the chills and made this the most convincing work on the album (which, by the way, I would rarely say of any Brouwer). Fantastic work Brett.
Nocturnal after John Dowland, Op. 70 by Benjamin Britten (1913-1976) was composed in 1963 for guitarist Julian Bream and is one of the guitar repertoire masterpieces. Here Brett's solid playing is expanded with some nice atmospheric colours. In particular, the slower movements such as Musingly are perfectly paced. Restless, Uneasy, and Dreaming also display a great sense of mood and musical direction. I thought some of the faster movements could have benefitted from a quicker tempo or could have been more extroverted..something. Overall a good performance of this large set of reverse variations.
The other works offer more of the guitar canon. The Rodrigo has Spanish flare and Brett pulls it off nicely including some quick and beautiful tremolo moments, interweaving dark motifs, and impressive dance and scale work. The Barrios has some sweet and touching moments and a beautiful tremolo performance as well. The Tarrega is well played and phrased with all the Romantic bells and whistles.
The Domeniconi is wonderfully executed. I guess I should say it is the true highlight of the album because it's so well played here. I hear it so often that I sometimes don't want to write about it. Nevertheless the presto is blazing fast and super impressive. There are also some great rock-like shots in there. [Brett, we should exchange metal riffs next time I'm in Calgary!]
The recording quality is pretty 'live' sounding which I sometimes prefer over the studio close mic that beefs of up the bass. But it's a touch bright on occasion. That said, it's clear which is good. The colour variations in the Britten were well captured which is another plus. This is the sound you can expect from your average debut album these days and it works just fine. Actually, on the Domeniconi I think the recording quality actually enhanced it, sounded like my old Ravi Shankar recordings.
As a debut recording this is a fantastic success. Gunther plays some of the guitar's most beloved works and showcases his versatility as a skilled player. The Brouwer comes off as a refined artistic expression and listeners will be impressed with his musicality and sense of space and direction in the Britten, Moller, and Domeniconi. Guitarists out there will be interested to hear his solid performances of the Rodrigo, Barrios, and Tarrega. The Domeniconi is super impressive and provides all the flash and momentum one could want. This recording is from 2012 so I already know that the next recording will be a big step up from this one but Gunther can be proud of this enjoyable debut.
Brett Gunther is one of Western Canada's finest guitarists and I eagerly await his next release.