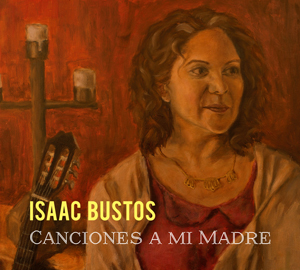 Canciones A Mi Madre by Isaac Bustos
Artist Website
VGO Recordings 2016
Guitarist Dr. Isaac Bustos was recently playing up here in Victoria, Canada, but sadly I was unable to attend his concert. However, everyone raved about his playing and warm personality so it was my pleasure to take a listen to his new album. Plus, his debut CD titled Caprichos y Sonatas was described by Soundboard Magazine as "…one of the best…it has everything one could want." You might know Bustos from his work in the famed Texas Guitar Quartet or his many, many competition wins. He also teaches and serves on the faculty at Texas A&M University Department of Performance Studies where he is head of guitar studies and artistic director of the Texas A&M International Guitar Symposium and Competition.
This is very enjoyable and interesting album which will delight general listeners and impress guitarists with its excellent performances. As the title suggests, 'songs to my mother' would probably be a nice one! As Bustos says in the program notes, "The musical offerings presented on this disc celebrate my mother's influence in my life but also pay tribute to our cultural heritage through dances, songs and nationalism." The albums ranges from exciting Afro-Cuban fusions by Jose Antonio ("Nico") Rojas, Argentinian Nuevo Tangos of Astor Piazzolla, to sweet songs such as Mexican composer Manuel María Ponce's Estrellita. There is also Brazilian, Nicaraguan, and Paraguayan representation as well.
What impressed me the most about this album is how Bustos can switch from clean and crisp rhythmic playing to a sweet sound with rubato and be so convincing at both. His range is spectacular and the playing is pristine and virtuosic. His style is a nice mix of control and high musicality but also filled with risk and energy. Some highlights for myself were the Guajira a Mi Madre by Rojas. The infectious Cuban rhythms and jazz/blues influence make this piece a real crowd pleaser. I'm surprised it's not played way more often. As Bustos mentions "La Mora Limpia is considered to be Nicaragua's second unofficial national anthem." This work is expertly arranged and performed by Bustos.
The recording quality matches Bustos playing nicely. It sounds like a great mix of close and far mics so it has all the presence of a studio recording but with the distance of a nice hall. The sound is present, clean, but also sweet and round. Recorded at St Andrew's Episcopal Church – San Bruno, CA. Guitar: 2001 Simon Marty.
Summary
Canciones A Mi Madre by Isaac Bustos will delight listeners with clean rhythmic playing, a warm sweet tone, heightened musicality, and virtuosic flourishes. General listeners will love the Latin American repertoire and the warm hearted character of the album. A real crowd pleaser from one of the great guitarists performing and recording today.
Repertoire
Guajira a Mi Madre by Jose Antonio ("Nico") Rojas (1921-2008)
Verano Porteño by Astor Piazzolla (1921-1992)
Julia Florida & Choro de Saudade by Agustín Barrios Mangoré (1885-1944)
Suite del Recuerdo by José Luis Merlin (b. 1952)
(Evocación, Zamba, Chacarera, Carnavalito, Evocación, Joropo)
Milonga by Jorge Cardoso (b. 1949)
Se Ela Perguntar by Dilermando Reis (1916-1977)
La Mora Limpia (arr. by Bustos) by Justo Santos (1925-1958)
Estrellita by Manuel María Ponce (1882-1948)