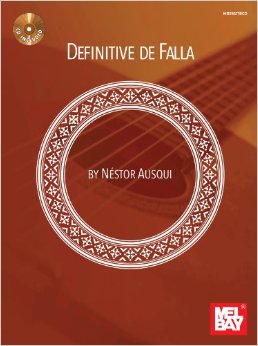 Buy or Learn More: Definitive De Falla via Amazon
By Nestor Ausqui
Paperback: 36 pages
Publisher: Mel Bay Publications (October 24, 2013)
Product Dimensions: 0.2 x 8.5 x 11.2 inches
From the publisher:
Nestor Ausqui hails from the picturesque Argentinian city of Santa Fe: a robust and vibrant city catering to the arts and culture, most notably music. Definitive de Falla is Ausqui's second book from Mel Bay Publications, following the release of the Nestor Ausqui Collection (MB99894EB). This book and accompanying audio represent an important collection in the classical guitar genre. Guitarists from around the world will enjoy Ausqui's faithful attention to detail in the transcriptions,making this book an excellent addition to any guitarist's library.
Review:
In general, everyone is pretty familiar with these works from Spanish composer Manuel de Falla (1876-1946). I grew up listening to Williams Plays Spanish Guitar Music (amazon link) as I'm sure many of you readers did. The title of this book of arrangements, although good for marketing, should not have been called 'definitive', how can arrangements be definitive? Nevertheless, it is a very nice publication with notation only. It's a clean score with fingering but not overly cluttered (I wish all Mel Bay scores were this clean). There are some micro-managed dynamics but many people might appreciate knowing these interpretive markings.
The arrangements sound pretty good and are nicely contained to two voices most of time which make them generally playable. Very first arrangement in the book I found either a mistake or plainly poor fingering on the first page of the book on El Amor Brujo bar 5 with doubled 4th finger and a slur with a bizarre fingering of the 4th on the descending. However, after looking through more of the book there doesn't seem to many mistakes besides that first one. I don't love all the fingerings however, and I feel as though the style of fingering could be improved upon. There is a lot of shifting around on weak fingers and not always a good utilization of the open strings for ease of playing. I would give the fingering a so-so rating. I played through the book just a little bit and it generally sounded good and was easily comprehensible.
OMG! Warning! The book comes with a CD which I was excited to hear, HOWEVER, the recording is just a midi track of the notation! That is such a poor choice and it does not say that anywhere on the cover or inside the book that it's not a real player! Seriously Mel Bay? The book looks pretty good, the arrangements look alright, but a midi CD? How am supposed to know these arrangements are good if the publisher and arranger have a computer performing the CD? Is this laziness or can the arranger or publisher not play them or find anyone else to play them? Two thumbs down for the CD.
Conclusion: Pretty good arrangements, so-so fingering, bad midi CD.
Here's the repertoire:
Song of the Willo-o'-the-wisp (El Amor Brujo)
Dance of the Corregidor (Three Cornered Hat)
Neighbor's Dance (Three Cornered Hat)0
Dance of The Miller (Three Cornered Hat)
The Fisherman's Song (El Amor Brujo)
Spanish Dance #1 (La Vida Breve)