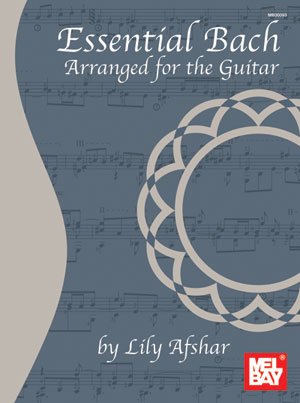 Paperback: 116 pages
Publisher: Mel Bay Publications (December 14, 2012)
Level: Intermediate to Advanced. Students could start with the cello works and go from there.
Works included:
Cello Suite No. 1, BWV 1007
Cello Suite No. 3, BWV 1009
Prelude, Fugue, & Allegro BWV 998
Lute Suite No.1, BWV 996
Lute Suite No. 2, BWV 997
Lute Suite No. 3, BWV 1007
Lute Suite No. 4, BWV 1006a
Ave Maria
Classical guitarist Lily Afshar, a concert and recording guitarist of the professional level, has arranged a large selection of works by Johann Sebastian Bach (1685–1750) and published via Mel Bay.
As Afshar states in the forward, there are less bass notes and slurs than in many other editions. I think this is a wise choice as Bach is often performed poorly on the guitar, or at least unmusically. Too many additions to the score, although musically interesting, often result in a overly-difficult performance experience. Overall, I think this was a good choice, although I sometimes missed the rhythmic strength of additional notes on strong beats of the cello works. At the same time, the music of Bach is well represented in this edition and one can be confident that the score is close to the original. There are also some dynamics added which will give students some initial ideas to start with.
The fingerings are surprisingly good. In fact, my first reading from the book was BWV 1006a and the fingerings of the opening were almost exactly as I play it; kind of a mix of the newer Koonce and John Williams. The newer Koonce edition might be a bit more direct and simple but maybe not. In the other works, there is a tendency for a few stretches that could be a strain for some, however, the musical result is often quite good. There is a lot of cross-stringing and open strings which is good for playability. The result is often quite legato but be careful of letting notes bleed over too much. Overall, I would recommend the fingerings in this edition.
The choice of keys in the cello suites are fine, Cello Suite No. 1 in D and Suite 3 in A. Suite 3 is getting a bit high in register for my liking but it does result in some nice, shimmering highs which highlight the guitar's sweet-spots. The rest is standard fair key-wise.
The repertoire is great, although maybe some violin works could have been nice if we are call this 'essential Bach'.
At $24.99 USD, the value is excellent. Plus, I read through a good chunk and didn't see any errors.
I have a personal preference for minimal fingering on scores but this book gives fingering for almost every single note. Some students may enjoy all the fingerings. There's very little right-hand fingering, some fingering does appear on occasion, it's probably enough to get people through the most difficult of sections. Not a big deal. Guitarist's who are big fans of Lily Afshar will love the heavy fingerings as they get to play like their favorite guitarist.
You will love this book if you are new to Bach, a fan of Lily Afshar, or want new ideas. You may also love the detailed fingerings and minimalist additions to the music. The value is great despite being only a selection rather than complete works.
Publisher's Description:
Essential Bach Arranged for Guitar provides guitarists with a new approach to many of Bach's masterpieces. The fingerings in the arrangements make the guitar sound rich and full, as if the pieces were written for the instrument. Attention is given to the musical line by using cross-string fingerings in a consistent manner. This approach allows the harmonies to become more evident as well. By using a more musical approach for the fingerings, playing Bach on the guitar no longer feels cumbersome. Suggested dynamics and articulations are also included. Fingerings and slurs are notated close to the notes for easy reading.