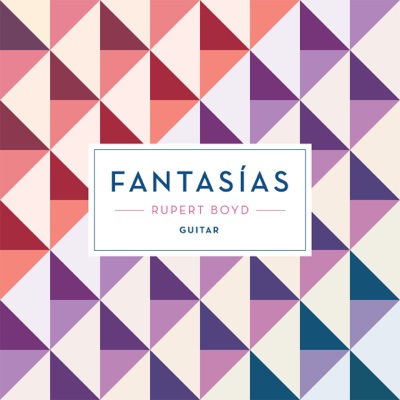 Fantasías by Rupert Boyd
Artist Website: rupertboyd.com
Little Mystery Records 2016
Listen to Samples or Buy via Amazon: Fantasías by Rupert Boyd
Or visit his website for other purchase options.
Otoño Porteño by Astor Piazzolla (1921-1992) (arr. S. Assad)
Four Traditional Celtic Songs (arr. D. Russell)
God of the Northern Forest & Kinkachoo, I Love You by Phillip Houghton (b. 1954)
Pantomima (arr. R. Boyd) & The Miller's Dance (arr. T. Kain) by Manuel de Falla (1876-1946)
Fantasie by John Dowland (1563-1626)
Tres Apuntes by Leo Brouwer (b. 1939)
Fantasy on a Hawaiian Lullabye by Byron Yasui (b. 1940)
Fantasia in A minor, Op. 19 by Luigi Legnani (1790-1877)
Prélude by Aloÿs Fornerod (1890-1965)
Étude No. 9: Très peu animé by Heitor Villa-Lobos (1887-1959)
Catalan Folksong: El Noi de la Mare (arr. M. Llobet)
Fantasia on Verdi's La Traviata by Julián Arcas (1832-1882) [rev. F. Tárrega]
New York-based Australian guitarist Rupert Boyd recently released an excellent album filled with an eclectic mix of compositions. This album has something for everyone, as the press release explains, "Recorded by renowned producer John Taylor in a centuries-old church just outside of London in November 2015, Fantasías contains a varied collection of works for solo classical guitar, including four fantasias that span from Elizabethan England to modern-day Hawaii. The album also includes works by the Australian composer Phillip Houghton, a tango by the Argentinian composer Astor Piazzolla, a work by Cuban composer Leo Brouwer, and four traditional Celtic songs arranged for guitar by David Russell."
The Phillip Houghton works are a highlight of the album for their Australian connection and successful guitar textures. Boyd's building crescendos and thematic develop are top notch in God of the Northern Forest, written for Houghton's former teacher Sebastian Jorgensen. Kinkachoo, I Love You is fairly well known, premiered by Evangelos Karavitis and previously recorded by Carlos Bonell. Boyd maintains the sensitive yet mesmerizing mood with a harp-like touch. Out of interest, both works are available on the composer's website and use an F tuning on the sixth string so make a good set.
The other contemporary work is Fantasy on a Hawaiian Lullabye by Byron Yasui (b. 1940) which is a charming little piece with an almost music-box Hawaiian feel. Yasui is a composer and professer at the University of Hawaii. He also (wow), "remains active as a freelance jazz double bassist, double bassist (part time) with the Honolulu Symphony, and a classical guitar duo partner with Brazilian virtuoso Carlos Barboso-Lima" [bio]. There are some interesting spacious moments in the middle and end with nice textural writing and magical harmonics. Boyd highlights some of the guitar's bell-like sounds that float off the guitar like perfect pearls. I wonder if the album could use a few more special moments as this one displays? I personally really like Boyd's straightforward and mature musical approach but some might want a bit more indulgent rubato here and there.
Plenty of other exciting moments from sexy Piazzolla lines and extroverted rasgueados in the great arrangement of Pantomima. Boyd's phrasing is beautiful and always has nice forward movement, I especially liked his flowing lines in the Dowland that just keep overturning…continuous joy!
The recording is crystal clear and open or live sounding in the church. I prefer this sound over close mic studio work because it sounds more natural and feels more risky, as if one was listening to a live performance. The recording really brings out a wide range of sounds from bright and glassy accents to warm and sweet tasto tones. Some might want more bass presence but I like the distance.
Can't find any big fault here. Maybe the eclectic mix won't fit a specific mood but others will welcome the contrast and varied styles and eras. The switch between Dowland and Brouwer, for example, is so contrasting yet wonderfully played. Despite the wide variety of repertoire on the album Boyd handles it all with ease and solid musicality. Fantasías is a great title that sums up the album nicely.
Fantasías by Rupert Boyd has something for everyone. From tango romps, Celtic melodies, to charming lullabies, Boyd plays it all with a mature musical finesse. The mix of old and new repertoire will please many but I particularly liked the newer works and would love to see an all-contemporary album by this excellent player.