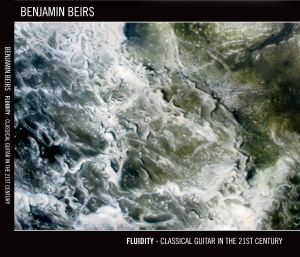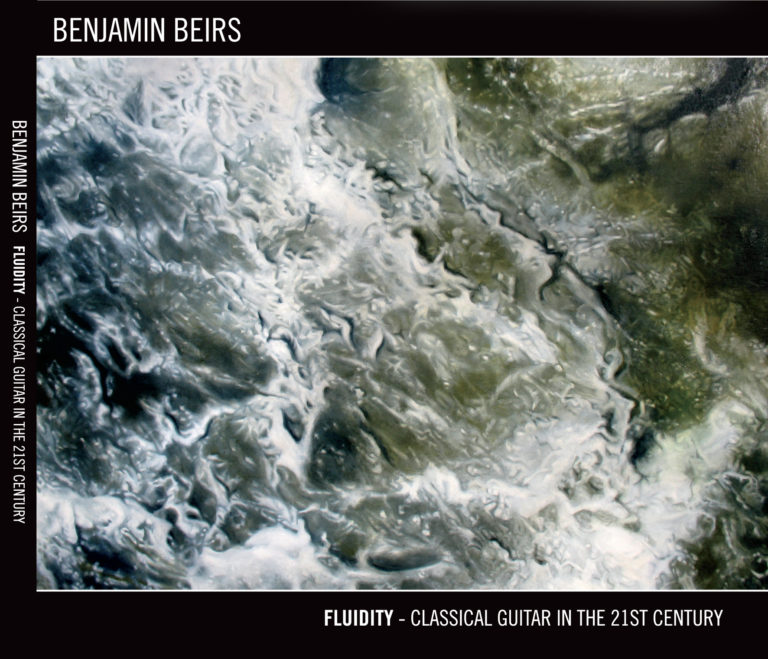 Artist Website: benjaminbeirs.com
Help support this album via: Indiegogo
Album Title: Fluidity: Classical Guitar in the 21st Century
Repertoire:
Laments, Dances and Lullabies by Miroslav Tadic (b. 1959)
Sonata III by Manuel M. Ponce (1882-1948)
Fluidity by Benjamin Beirs (b. 1984)
Lutoslawski: In Memoriam by Marek Pasieczny (b. 1980)
Collectici íntim by Vicente Asencio (1903-1979)
Review:
I really enjoyed the last album by Benjamin Beirs titled Widening Circles so was pleased to receive this new selection of 20th century and contemporary works for classical guitar. This is the second album by Beirs who previous studied at Peabody Conservatory but is currently performing and studying in Paris, France. Beirs also plays in a duo named Duo Transatlantique with guitarist Maud Laforest.
Composer/guitarist Miroslav Tadic has been exploring Macedonian music in his recent works including the selection from this album Laments, Dances and Lullabies. The twisting rhythms and sharp melodic contrasts are very interesting but always filled with charm and forward movement. Beirs takes a straight forward but musical approach. He always maintains solid rhythm while saving the melodic and sensitive playing for more relaxed sections of the work. Very enjoyable with tons of flavour and, luckily, does not come off as overdramatic.
The well known Sonata III by Ponce is one of my favourite compositions as far as mainstay Segovia era repertoire is concerned. Beirs approach to the work is again a solid one. He does not over-Romanticize the music from a rhythmic standpoint but does add some nice romantic phrasing and lots of coloration. The first movement is beautiful as is the second. I don't love the Segovia edition, especially things like the harmonics in the second movement. I couldn't find my copy of the urtext that was released from the Ponce museum but I think I recall a number of changes and more solid pianistic writing at times. It's all personal preference of course but I recall the museum edition is more straight forward and has some filled out sections and no harmonics. Segovia made some fine changes on occasion but some of his changes sound dated to me and include some superficial guitar effects. Anyway, the Segovia edition is still good and is the published edition so who am I to argue. Back to the album: Beirs does a great job with the Ponce but I thought it did lack a little bit forward push and fire. However, there are many beautiful moments and solid playing overall. In fact, Beirs approach is more musical than most performances I've heard making this a keeper in my music collection.
As with the last album by Beirs, this one includes a composition by the performer himself: Fluidity. I really appreciate performers who compose as it contributes something to the guitar culture and highlights a different side of the performer. The work is based on paintings by Beirs' sister Sunny Gibbons. The movements, Circle, Whorl, and Storm are well painted in the music and the entire work has a refreshing amount of energy. The language sounds to this listener like a mix of everything from minimalist tendencies such as Adams but maybe some Brouwer, to Riley world music too (if you need a comparison that is). The last movement is a good trek filled with long energetic pacing. Excellent playing and interesting modern music with an overall consonant sound but not without spice.
I'm also very glad to hear the dedication work: Lutoslawski: In Memoriam by Marek Pasieczny (b. 1980). This is a very interesting work filled with many surprises and never obvious or formulaic despite it's structural coherence. Lutoslawski was one of the major European composers of the 20th century and certainly of Poland. These short and concise works model themselves after Lutoslawski themes and the language ranges from pitch organization to heavy chromatic work. Beirs handles the work well and his clean playing style is well suited to keeping the voices separated and in order.
Collectici íntim by Vicente Asencio (1903-1979) are well known and some of the best repertoire for the instrument from this era. Asencio's language is modern but the gestures and motivic material is easy to understand and listen to. Beirs is once again well suited to this music with his clarity and coloration as well as fine sense of articulations throughout. I particularly enjoyed his pacing and sound in the first movement La Serenor. Beirs offers all the phrasing and musicality I need while maintaining the hypnotic rhythmic motif throughout.
Conclusion:
Another very solid album from Benjamin Beirs. As he sheds some of his youth heard in his debut album, this recording displays more of his intellectual and musical side. His Ponce is simultaneously a pleasure and a question for my taste. He is super musical and colorful as well as intelligent in style but I would have left out the Ponce and focused on the contemporary works. However, I do love the Asencio and won't that removed. I was glad to hear a new take on the work. Beirs has a very clean sound with excellent phrasing, articulation, and color/orchestration. At this rate he is set to have a long and productive career. I continue to look forward to future albums and highly recommend him to those looking for spectacular youthful players that are musical instead of dry competition winners (although Beirs has indeed won numerous prizes in compeitions). By the way, you can support the album and the release but contributing to his Indiegogo campaign.
Artist Website: benjaminbeirs.com
Help support this album via: Indiegogo
---
Here's another video, this time of