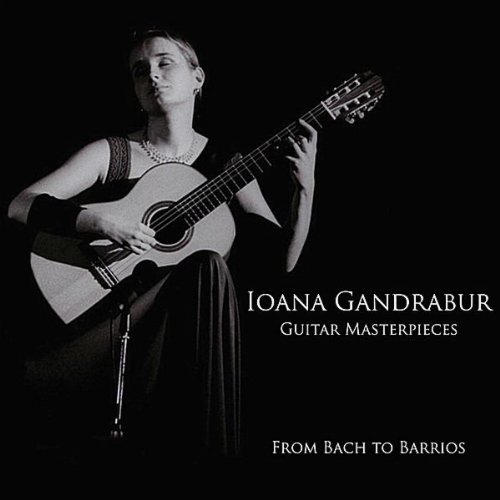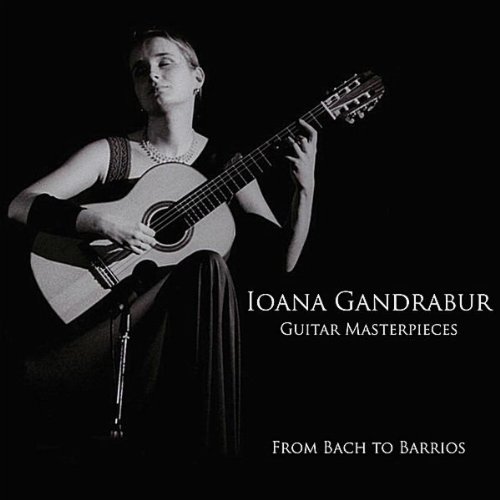 Ioana Gandrabur – Guitar Masterpieces
Guitar Masterpieces From Bach to Barrios
[Originally reviewed on Classical Guitar Canada in 2012]
Buy or listen to samples:
Ioana Gandrabur Guitar Masterpieces via Amazon
Release Date: 2010
Copyright: 2010 Ioana Gandrabur
Total Length: 1:06:16
Repertoire:
J.S. Bach – Suite BWV 997
Gulio Regondi – Rêverie op.19
Antonio José – Sonata
William Walton – Five Bagatelles
Agustin Barrios – Una Limosna por el amor de dios
Born in Bucharest, Romania, Ioana Gandrabur has lived in Canada since age 16. She studied at the Conservatoire de Musique de Montréal under the direction of Jean Vallières before continuing her education in Germany. She currently resides in Montreal. One of my favourite things about this recording is the clean, yet sensitive style. The playing is musical with impeccable phrasing and an excellent sense of space and breathe to the shaping. I especially appreciate the sound of the recording which offers an very nice mix of bright, clean, woody sounds, but with a good amount of depth and resonance. Overall, a beautiful right-hand sound and recording quality.
Gandrabur ranges from beautiful phrasing in the Bach prelude to sharp articulation in the gigue. The difficult fugue is handled well, again with excellent phrasing. A more straight-forward approach to the phrasing and less tempo variation/rubato at the ends of phrases might be nice but overall the musicality works. Her shaping never interferes with the pulse or rhythmic delivery. Wonderful tone and phrasing work perfectly to compliment the mood in Regondi's Reverie. The rubato and Romantic flourishes create some lovely moments. I also enjoyed hearing the Jose Sonata which is such a great piece. Gandrabur nicely handles the changes in mood and she breaks out of her shell and takes some risks with the finale. I was worried that the album would be too controlled but she's becomes more extroverted when needed. The Walton is impressively clean, articulate, and filled with a wide dynamic range. The con slancio is particularily energetic and showcases the stronger side of her technique. The Barrios tremolo was beautiful with Gandrabur's playing sweet and effective.
Guitar Masterpieces is a musical offering with excellent sound and beautiful musical delivery. Ioana Gandrabur's clean sound, good tone, and impeccable phrasing makes this recording a wonderful contribution. The Regondi, Jose, and Barrios work very well with her musically expressive style. The Bach has great ideas and musical playing but might not be for everyone's Baroque aesthetic;  this really comes down to personal preference. The Walton is impressive and showcases a highly articulate player. An excellent recording from a player with a high level of musicality rare to the classical guitar world.