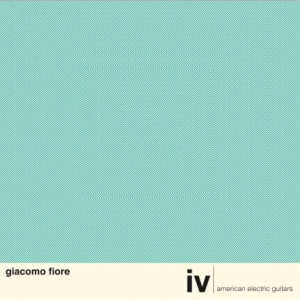 Check out this new release from Giacomo Fiore titled, iv: american electric guitars. You can listen to samples on his website. This is the second album of electric guitar compositions I've been sent recently, the last one being Adrian Verdejo's Modern Hearts. The thing I appreciate most from electric albums is the soundscape on the recordings. As with the first track, until it blazes (2001) by Eve Beglarian, the hypnotic and repetitive textures of delayed guitar bounce back and forth from ear to ear in euphoric stereo mixing. You just don't get this from classical guitar (nor would it always be appropriate). The form of the work, as Fiore explains, "…is left to the performer; in this recording, I attempted to create a sense of urgency, as the activity in the piece accelerates until a final ignition and rapid combustion." The result is a beautiful soundscape of overlapping textures blazing into an accentuated distorted finale.
The second track is a well known gem in the repertoire, another possibility (2004) by Christian Wolff. The story behind this work is rather tragic. Back in 1966, Morton Feldman composed The Possibility of a New Work for Electric Guitar for Christian Wolff (b. 1934). Wolff performed the piece but his guitar (and the only copy of the score) was stolen from his car one night. Forty years later, Wolff composed a piece inspired by what he remembered of the lost Feldman work. So, sadly, we no longer have a Feldman work but we do have this curious work by Wolff that has a great story behind it. This sparse and whimsical work is well paced and executed by Fiore who gives us a clean and focused interpretation. He mentions some amazing news in his notes, "In a final historical twist, a recording of Wolff's 1966 performance of the Feldman piece was recently found in the KPFA archives in Berkeley, California; a critical edition—based on a transcription of the performance and on some of Feldman's sketches —is being prepared for publication by guitarist Seth Josel."
A treat on the album, partly since I had not heard the work before, is hair of the thing that bit you (2011) by Anthony Porter which was originally for amplified acoustic guitar and looper pedal, after a commission by Matthew Holmes-Linder of San Francisco's Mobius Trio. This playful work is filled with various textures, looping, and other effects. Fiore pulls out all the stops and delivers beautiful textures and sounds for each of the four main sections in the work. The interlocking melodic fragments are candy for the ears. Some very touching moments in here too.
In some ways the most musically developed work on the album is freeHorn (2004) by Larry Polansky. As Fiore states, "Much of the music of Larry Polansky (b. 1954) explores the concept of modulating among harmonic series; higher pitches from the "target" series are substituted into the existing texture, initially generating a sort of mistuning effect, but eventually unveiling the new harmony…freeHorn is in some ways the culmination of this set: performers can use a computer program to generate a path among harmonic tunings, a process that they are free to accompany (or obstruct) as it unfolds." Here the possibilities of the electric guitar and recording process are fully realized as shifting harmonies and just intonation tuning meet with motivic interest.
Conclusion
Giacomo Fiore pulls off an album that is both technically and musically demanding. As interpreter Fiore creates soundscapes both fascinating and effective and showcases the possibilities of the electric guitar as an interpretive tool. With excellent recording quality and the sonically pleasing sound world of modern technology, this is a very successful album. As a first album by Fiore for composed music for electric guitar, he gives us an interesting cross-section of works firmly in the repertoire. In the future it would be interesting to see an album of new music commissions. This album could certainly set the stage for such a project. I look forward to more from Fiore and urge everyone from classically minded listeners to crossover rockers to check out this album.