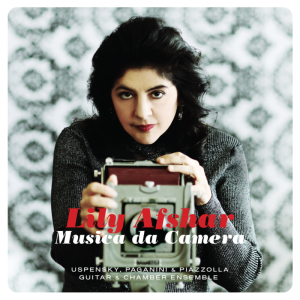 Musica da Camera
Uspenskey, Paganini, & Piazzolla
Buy or listen to samples on Amazon: Lily Afshar – Musica da Camera
Artist Website: lilyafshar.com
Label: Archer Records
1. Musical Sketches on Pushkin's Eugene Onegin
for guitar & chamber ensemble by Vladislav Uspensky (WORLD PREMIERE)
Performed by Lily Afshar, Jim Gholson, Daniel Gilbert, Tim Shiu,
Anthony Gilbert, Leonardo Altino, John Chiego, Frank Shaffer
1. The Ball, 2. Tatiana, 3. Ol'ga, 4. Quadrille, 5. Onegin, 6. Mazurka, 7. Lensky, 8. Theatre
2. Sonata Concertata, Op. 61
for guitar & violin by Niccolo Paganini
Performed by Lily Afshar and Tim Shiu
1. Allegro Spiritoso, 2. Adagio assai espressivo, 3. Rondeau
3. Histoire du Tango
for guitar & violin by Astor Piazzolla
Performed by Lily Afshar and Joy Wiener
(Recorded live at Buckman Performing Arts Center,Memphis)
1. Bordel 1900, 2. Cafe 1930, 3. Nightclub 1960, 4. Concert d'Aujourd'hui
When it comes to guitar recordings I find chamber music to be infinitely more interesting than solo works (there are exceptions of course). This release from Lily Afshar has two familiar duo works that have had a great deal of exposure but it also has a world premiere of a work for guitar & chamber ensemble by Vladislav Uspensky (1937-2004) titled Musical Sketches on Pushkin's Eugene Onegin. Uspensky, born in Siberia, was a student of Shostakovich and later a professor at St. Petersburg Conservatory. The eight movements are characters or scenes from Pushkin's novel. The piece has everything from intricate ensemble work to simple folk-like textures. The guitar part is excellent and also significant which is unusual for a larger chamber work. This is an important contribution to the guitar repertoire. Afshar's press release quotes her:
"The inspiration for this recording began with my curiosity of Uspensky's Musical Sketches on Pushkin's Eugene Onegin," Afshar says. "The fact that it is based on Pushkin's novel, and the unique instrumentation for eight musicians – drums, bass, clarinet and strings with guitar – intrigued me. Knowing the story and listening to the programmatic piece clearly explains the character of the hero and heroines created by both Pushkin and Uspensky while blending 19th Century with the 20th."
The music ranges from rhythmic romps to simple melodies. Very listenable to general audiences but also of interest to Twentieth Century enthusiasts. Tasteful playing and very interesting textures ranging from the eclectic bizarre to simple solo guitar as in the third movement. By the way, there is something about guitar and clarinet that I really like…can't put my finger on it but it just hits the spot, especially when the strings are in accompaniment.
The other works on the album include Sonata Concertata, Op. 61 for guitar & violin by Niccolo Paganini and Histoire du Tango for guitar & violin by Astor Piazzolla. The Piazzolla with Joy Wiener was recorded live and has a great quality to the improvisatory nature of the work. Wiener's sound has the execution of a classical player but some of the nuances of a jazz performance in this work. Really exciting and great for listening to for enjoyment not just reference. I really liked these tracks because it sounds as though the performers were having some real fun. I've heard this work recorded in a dry and 'classical' way but this performance was much more raunchy and seductive. Nice work.
The Paganini is fun and virtuosic and adds a some lighter playing if the Uspensky is not your thing. I'm not particularly interested in Paganini but the performance was good with plenty of risk and some blazing lines from Afshar.
The performances are excellent. Afshar has great musical shaping and knows when to be accompaniment and when to highlight the guitar. There are some very virtuosic moments and Afshar handles them with ease and style.
The recording quality is pleasing to the ear but does sound a bit like listening to a old record player. It's not crystal clear but is actually still a very nice sound. It was not what I expected from a modern release but I'm not complaining. The guitar is a bit dry (as in not much reverb) but that works well in the context of this larger ensemble. I listened to album up close while reviewing but also while cooking dinner (a true test?) and enjoyed both experiences.
Conclusion:
The Piazzolla is a treat for its jazzy Argentinian vibe. But the real reason you should pick up a copy of this album is for the work by Vladislav Uspensky. It's a great chamber work and should be explored by all. I think we'll be seeing this work programmed regularly once people start hearing it as it will be enjoyed by audiences and musicians alike. The recording quality could have been better but it actually had a nice listening quality to it. A great album with spectacular playing all around plus an important world premiere recording of Uspensky.