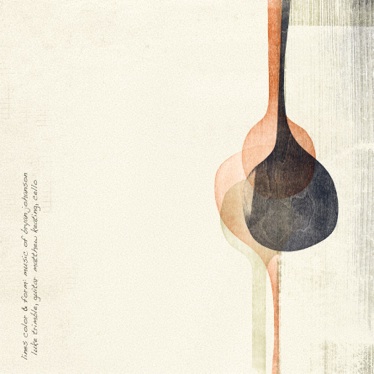 Album Title: Lines, Color & Form: Music of Bryan Johanson
Artist: Luke Trimble (guitar) and Matthew Keating (cello)
Artist Website: www.luketrimble.com
Buy or Listen to Samples via Amazon:
Lines Color & Form: Music of Bryan Johanson
Repertoire:
1-3. Spring, Op. 1 by Bryan Johanson
Three Sonatas, Domenico Scarlatti (1685-1757)
Transcribed by Bryan Johanson
4. Sonata in D Major, K. 333
5. Sonata in A Major, K. 208
6. Sonata in G Major, K. 431
7. Berceuse by Bryan Johanson
A Simple Serenade, for guitar and cello by Bryan Johanson
8. Prelude
9. Arioso
10. Serenade
11. Valse
12. Scherzo
13. Variations
14. Finale, alla gigue
American composer and guitarist Bryan Johanson composes works that are filled with charm, excitement, and playful counterpoint. He is also an excellent orchestrater even when there is only one or two instruments. Guitarist Luke Trimble graduated from the Portland State University where he studied under Johanson. So, here we see two great elements: Trimble's performance of a mentor's compositions and arrangements and a collaboration with cellist Matthew Keating.
I review so many solo recordings that I'm always excited to hear chamber music. The sound of cello and guitar works very well on this album and I often felt I was listening to more instruments. Also, the classical guitar can be difficult to record but add another instrument and the sound is enhanced by the timbre variety and additional dynamic range.
Luke Trimble is a great guitarist. I'll try to do an interview with him at some point. His best quality is his tasteful and mature approach. He has a wide range of tasteful articulation and interpretive ideas. I really get the sense that he uses the guitar as an interpretive tool.
Spring, Op. 1 (1977) for solo guitar, is Bryan Johanson's first completed work. It's a simple piece filled with Johanson's love of orchestrated guitar sounds. That is maybe one of Johanson's best qualities, perfectly orchestrated classical guitar writing. Even in this early work the texture is excellent. The work has a warm, almost folk-like charm on the most basic level but also has abundant amounts of counterpoint and opportunities for articulation that Trimble pulls of beautifully.
The Scarlatti sonatas are also beautifully orchestrated and Keating does an excellent job of creating contrasts, he really pulled me in with the changes between pizzicato notes and sharp twists matching Scarlatti's style wonderfully. Meanwhile Trimble holds down the rhythm and completes the exciting texture.
The Berceuse is where I realized that this project was truly special. The sense of momentum and exciting climaxes really made my day. The guitar is often a relentless force of rhythm while the cello really brings out the phrasing and shaping as only bowed strings can do. This was so good that I almost wish the entire album was filled with just guitar and cello originals from Johanson rather than the first half which was good but different in style.
The final work is the Serenade that showcases the group's versatility and wide expressive range. From exciting and welcomed risk taking to tender melodic work the group really pulls this off. I don't have much to add here as this multi-movement work is special much in the same way as the Berceuse. I was very touched by the beautiful 'Arioso' movement that seemed to just float on a calm forward momentum. There is also some very exciting and playful writing in the 'variations'  that has now made me an adamant Johanson fan. Great counterpoint, and motivic development.
Conclusion:
The first half the album is good but it is the second half that is truly special. To be honest, I rarely listen to most classical guitar albums more than a few times except for reference. I gravitate more toward other instruments and popular content saving the guitar for live concerts. However, I'll make an exception here as this album is something special. This is one of best albums I've reviewed. Definitely one of the best releases this year and should not be ignored. I'm very excited to hear more from this group and was so pleased to receive it for review.
Buy or Listen to Samples via Amazon:
Lines Color & Form: Music of Bryan Johanson