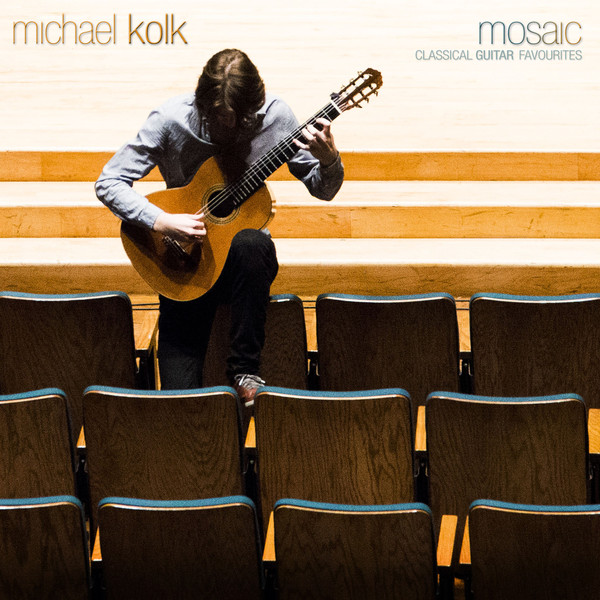 Mosaic: Classical Guitar Favourites
by Michael Kolk
Artist Website: michaelkolkguitar.com
ALMA Records: almarecords.com
Buy the album or listen to samples: Mosaic via Amazon
Or check out his website for more purchase options.
Review by Bradford Werner, thisisclassicalguitar.com
I'm a big fan of Canadian guitarist Michael Kolk so I was very pleased to receive a copy of his new recording for review. I've reviewed Kolk's recordings before and loved them and I've also seen him play live and it's an equally impressive experience. This recording is not your typical sappy guitar favourites album, instead, the repertoire is wisely chosen and will please both general audiences and guitarists alike.
Repertoire
Albeniz: Rumores de la Caleta and Granada
Giuliani: Variations sur les Folies D'Espagne
Bach: Prelude, Fugue and Allegro, BWV 998
Barrios: La Catedral
Tarrega: Endecha, Oremus, Granada, Prelude No. 5
Villa-Lobos: Prelude No.2, Prelude No.5
Brouwer: Un Dia de Noviembre, Danza Caracteristica
Debussy: La fille aux cheveux de lin, Danseuses de Delphes
Kolk's playing is filled with a wide range of musical qualities ranging from elegant melodic work to extroverted risk taking. He is one of the most musical guitarists performing and recording today. His impeccable phrasing, musical ideas, and sensitive touch are a joy to listen to. He also has a maturity to his playing with excellent pacing and direction of musical lines. I loved his recording of Bach's 998 for its articulate counterpoint but was shocked at the beauty of his playing and the excellent tone of the Debussy works. I would usually not be eager to hear Debussy on guitar but Kolk is one of few guitarists who can pull it off.
There are many recordings of "Guitar Favourites" so I wasn't super excited about the album…I understand it of course. However, I think he found a pretty good balance between crowd pleasing and artistic direction. Also, good music is good music regardless of how well it's known (so maybe the snob in me came out for a short-lived visit). Many of the works have been heavily recorded but there are a few rarities in there too. I was happy to see the little Giuliani set of variations in there; a simple but still interesting piece. Also, you'll be hard-pressed to find this quality of player and pristine recording for any of these works. Overall, I listened to the album with enthusiasm and was captivated the entire time (and trust me I hear a lot classical guitar recordings these days so this is no small compliment). The CD was recorded by producer Peter Capaldi and engineer John Bailey, at Glenn Gould Studio in Toronto. The sound is simply spectacular: warm, clear, and present. Impressive.
The bottom line
Kolk is one of my favourite guitarists working today and this is one of the best quality recordings I've reviewed thus far. With a refined and sensitive touch on the instrument and no shortage of virtuosity, Kolk charms and excites any listener. General audiences will love the album for its accessible musical selections and professionals for its beautiful recording quality and Kolk's musicality. You probably suspect I'm buttering him up for something but really he is a great player, take a listen. One more:
Michael Kolk is one of Canada's finest musicians and will continue to gain the same reputation worldwide.