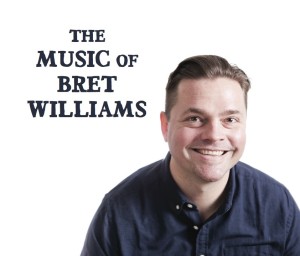 Music of Bret Williams
Buy from Artist Website: bretwilliamsmusic.com
Buy or listen on Amazon: Music of Bret Williams
Copyright: 2014 Bret Williams
Musicians:
Bret Willaims (guitar)
Mark Dover (clarinet)
Matt Aprea (violin)
Marc Schmeid (Bass)
Track Listing:
The Gravity of Ms. Peters
You'll Tear Your Dress
African Fighting Montage With Brief Ninja Appearance
I Drink Alone
How to Get to Work Quickly (1962)
Elodin On the Bridge
Pick That Up, Please
I Remember Dancing
You might already know Bret Williams from his popular podcast series Classical Guitar Insider where he has interviewed about 45 professional guitarists. Go take a listen. What you should also know, if you didn't already, is that Bret Williams is a fantastic guitarist and composer. I featured the below video a little while back and he commented with this info about it:
My new album features music for Quartet (Clarinet, Violin, Guitar and Bass). I wrote all the pieces and worked with the best guys in New York to bring it fruition… I was a pretty competitive soloist and duo player until I was diagnosed with focal dystonia in 2012. I gave myself a year to do nothing but try and get better, but on the anniversary of my diagnosis, I decided to move on without the use of my right hand ring finger. As a result I composed pieces I could play using only my thumb, middle and index fingers. I thought I could use some help in texture department and recruited countless others who came and went. I finally settled on this group, and the results were stellar.
I love chamber music with guitar and the combination of instruments on this album sound amazing. I also really like the sound of the guitar, it's clear but has a warm 'pop'. The music itself is always very melodic and for the most part consonant but filled with interesting twists and turns and plenty of contrapuntal writing. Williams has really found his own voice in composition. I'm not sure how to describe it stylistically, I hear some jazz (from early tunes to Davis musings), Piazzolla, African rhythms, and some Copland playfulness in his writing. It's very conversational between the instruments which leaves room for the guitar as one instrument passes lines to another. I listen to a lot of classical guitar albums because of the site but I rarely put on albums for my listening pleasure. However, this is an album I will play in the household for enjoyment and artistry. It has a great energy to it and the musicians all play wonderfully. Here's another of the live videos:
Recording quality is top notch. The guitar is exactly as I want to hear it: clear but warm and extroverted. With this combo of instruments there is not much clashing in range or timbre which keeps things nice and clean sounding. The different timbres between guitar, clarinet and violin is pleasing and the bass creates a nice cushion of sound to fill it out.
The Music of Bret Williams has it all: fantastic playing, great recording quality, and chamber music compositions that will please classical, jazz, and general listeners alike. My favourite aspect of the album is that it's conceptually unified. Bret Williams has created an album that pours out personality and creatively and will gain high praise from all who listen. A gem of an album!
Music of Bret Williams
Buy from Artist Website: bretwilliamsmusic.com
Buy or listen on Amazon: Music of Bret Williams
Podcasts and more: Classical Guitar Insider