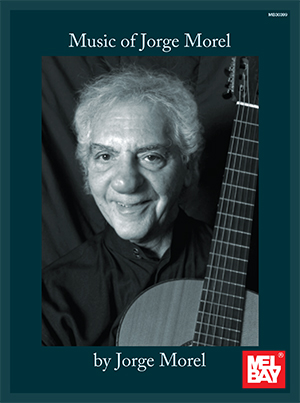 Music of Jorge Morel by Jorge Morel
Paperback: 36 pages (Notation)
Publisher: Mel Bay Publications, Inc. (September 24, 2013)
Buy or Learn More via Amazon: Music of Jorge Morel
From the composer (via back cover):
These compositions, like most of my music, are of Latin American roots, rhythms and melodies. However, the harmonies always have a jazz influence without losing that Latin flavor. Four of the five pieces in this book are dedications, except Lullaby of Love. I would say I wrote it for myself, and it is the only piece recorded by me on my new CD Latin Dialog, released by Luthier Music. My hope with this music is to bring more guitarists closer to the Latin American literature for the guitar that is still much in need of recognition. – Jorge Morel
A very nice collection of works by Jorge Morel. Morel was born in Argentina but has now lived in New York for almost 50 years. His works have been recorded and performed by many great professionals such as Williams, The Assads, the Romeros, Parkening, Russell, Lima, Fisk, and more. So, if you are already a fan you'll enjoy this book and if you don't know Morel's work then you can get YouTubing right away to your delight.
This collection of works are practical and are intermediate in level. However, one could call it advanced if you wished to get the pieces up to speed. They are worthy pieces for concerts both for students and professionals. In general, the works are not overly thick and somewhat straightforward to read. I did find a few mistakes in editorial fingering such as some 4th finger markings on page 18 and 2nd finger on page 23. No big deal, one can clearly understand. Otherwise the book is well fingered, clean, and easy to understand.
My favorite works in the book are La Danza en La dedicated to David Russell, Lullaby of Love, and the Scherzo Latino. The music all has strong Latin American rhythm and feel but with some mixed in jazz and modern harmonies and dissonances. Very listenable to general audiences.
Here's a video about the book via the publisher, Mel Bay Publications: