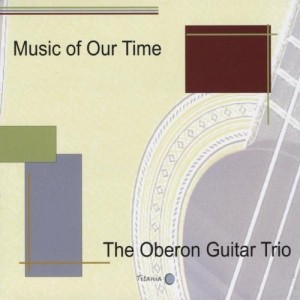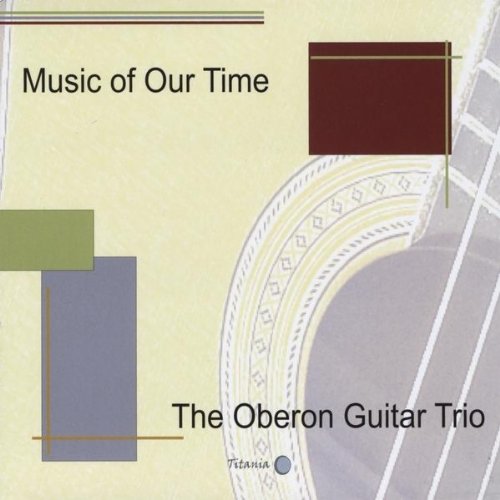 The Oberon Guitar Trio Music of Our Time
Performers: Murray Visscher, Brad Mahon, Ralph Maier
Record Label: Titania Music and Discs
Recorded in the Joyce and Quentin Doolittle Fine Arts Studio, University of Calgary, June 16-21, 2009.
Buy or listen to samples on Amazon: Music of Our Time
Repertoire:
Alice au pays des merveilles by Claude Gagnon (b. 1950)
Juxtapositions by William Beauvais (b. 1956)
Follow the Star by Stephen Dodgson (b. 1924)
Soupirs d'espace by Pascal Sasseville Quoquochi (b. 1972)
Review
May 11, 2010 (Previously Published on Classical Guitar Canada)
Canadian performers playing works by Canadian composers. The Oberon Trio, based in Calgary, have recorded some great Canadian repertoire including the Alice in Wonderland work coinciding with Burton's new direction of the film this year.
The trio is well balanced and obviously worked on getting their sound to blend. This is particularly noticeable in the first movement of Alice au pays des merveilles by Claude Gagnon. After listening to this movement a few times, titled De l'autre cote du miroir, I've come to realize how nicely they paced the tempo. My favorite movement from the Gagnon is the spirited and witty 2nd movement Big Ben Rabbit. Oberon shines here with wonderful forward movement but also a sense of complete agreement on the direction of phrases and inclusion of witty musical allusions. The Gagnon is a great trio as it is unified in its concept and musical elements. Very successful.
Juxtapositions by William Beauvais show a different side of the trio with a more direct and angular approach to the rhythms in the inner movements compared to the smooth legato outer movements. The Dowland Calypso is a fun little track and offers a lighter, laid-back side of the trio.
Soupirs d'espace by Pascal Sasseville Quoquochi is an expansive and colourful work and another important one for the classical guitar trio repertoire. Take a listen, it's a wonderful exploration of colour and balance of sonorities on the classical guitar. In fact, all the movements seem like an exploration of the instrument's abilities. Even if the music is not your style, listen to the track and enjoy the sounds of the instrument – sometimes I forget to enjoy the instrument itself while focusing on the compositional elements. Oberon Trio delivers a high quality sonic experience, especially on the Pulsions galactiques and Vent solaire. This is another nice contribution to the classical guitar trio repertoire.
The Oberon Guitar Trio have recorded an interesting album of new music that will please both general listeners and guitar aficionados alike. I recently had a chance to hear some of the repertoire live as the Oberon Trio performed at the the 2010 Northwest Festival. Great concert. If you get a chance to see Oberon live go introduce yourself as they are super nice and an important force in Canada's classical guitar scene.