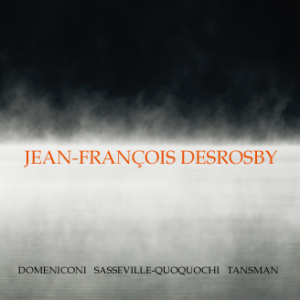 Domeniconi, Sasseville-Quoquochi, Tansman
by Jean-François Desrosby © 2015
Artist Website: desrosby.com
Buy or listen to Samples on Amazon:
Domeniconi, Sasseville-Quoquochi, Tansman
Repertoire:
Domeniconi: Koyunbaba – Tansman: Variations On a Theme By Scriabin – Sasseville Quoquochi: Totems II – Sasseville Quoquochi: Totems II and Kaos
Live Album Promo via Jean-francois Desrosby on YouTube:
It's with great excitement that I present this review of a new album by Canadian guitarist Jean-François Desrosby. Back in 2010 on Classical Guitar Canada I reviewed his debut album and loved it. In that review I included the line "I look forward to hearing more from Desrosby and highly await his next recording." So here we go!
Koyunbaba was written by Italian guitarist and composer Carlo Domeniconi (b.1947) in 1985. Domeniconi is extremely prolific but this work is one of his most focused and easy to take-in works. It's become one of the most played and recorded works of recent years. The rich sound of the work with detuned strings and its Turkish influence has made it a popular hit. Desrosby plays with a nice sense of space and direction in his phrasing. Very clear articulations and slurs. I appreciate the separation in the lines of the second and fourth movement as these movement sometimes come off as virtuosic guitar fluff but not here. Super clear fourth movement is impressive. The third movement is a gem with very pretty phrasing and lingering motifs.
Alexandre Tansman (1897–1986) was a Polish-born French composer and virtuoso pianist and we are lucky to have a few guitar works from this recognized composer. This is Segovia era stuff but the influence of Russian composer and pianist Alexander Scriabin (1872-1915) is a welcomed touch. This work, like the newer Koyunbaba, is firmly established in the repertoire and recorded often. Desrosby offers a clear and articulate recording with good forward motion. He doesn't meander too much which is a good choice but it still comes off as expressive. It's a pianistic performance with the nice touch of guitar colouration and variation in tone. Bravo.
Always nice to see some Canadian new music in the mix. Totem II was written for Desrosby and Kaos dedicated to him. "Quebecer and Atikamekw from the Lac St-Jean, Pascal Sasseville-Quoquochi now lives in Wemotaci – a native Atikamekw community in the Haut St-Maurice area – where he teaches music and History of Quebec and Canada" (more bio on Les Productions d'Oz). These two works, Totem II and Kaos, are a perfect match for Desrosby's daring and exciting skill set. The movements range from single melodic lines, expressive imitative counterpoint, spiralling arpeggios and slurs, to dark rock-influenced romps. Desrosby pulls it off beautifully with thoughtful and sensitive playing and forever-growing and intense virtuosity. [Tool fans will be pleased!]
The recording quality is good. Clear and sweet. It's a little on the metallic side on the upper register but has a nice glassy clear sound with plenty of bass too. I think guitars just sound this way on today's digital recordings as most of the newer albums I review have a sharp edge to them. Regardless, everyone will enjoy the recording quality here and Desrosby has a nice range of tone colours that come through nicely on the album.
Conclusion: Filled with famous works from the guitar repertoire to new music via Quebec this album is sure to impress all who listen. Desrosby is one of Canada's finest guitarists and continues to grow his output with solid and exciting recordings, lecturing, and teaching. On this album we hear a wide range of expression and some of Derosby's signature intensity that crosses stylistic boundaries. General listeners will love the Domeniconi and Tansman and others will want to hear the intense work of Sasseville-Quoquochi. I would love see an entire album of new music by Desrosby as his personal style and exciting playing comes out best with his commissions. Desrosby rocks!