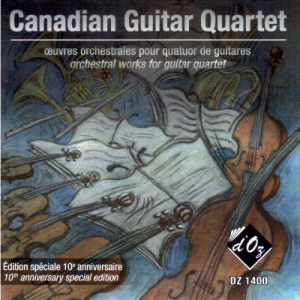 Canadian Guitar Quartet: Orchestral Works for Guitar Quartet
Philip Candelaria, Denis Donegani, Patrick Roux, Louis Trépanier
Label: Les Productions d'OZ
Artist Website: canadianguitarquartet.com
Buy or listen to sound clips via Amazon: Orchestral Works for Guitar Quartet
This article was originally posted on Classical Guitar Canada in Dec, 2010.
The Canadian Guitar Quartet is one of the best quartets in world but still, my first thought when I received this recording was: not another CD of arrangements. However, this is a spectacular recording full of character and virtuosity and the quality of the arrangement are top notch. The sound clips above give a good impression but leave out my favourite parts of the recording so just a few word about some of the special moments:
Aleksandr Borodin (1833-1887): The Polovtsian Dances have some amazing moments. I was shocked at how affective some of the sound effects were (all natural produced). Blazing scales, intense balalaika tones, golpe's that sound structurally dangerous to guitars, and more.
Patrick Roux (b.1962): Concerto Episodique. Those of you that have only heard the lighter side of Roux's works, such as Carnaval, will be impressed with this composition of depth, colour, and scope. There are some complex textures that the quartet play with ease and intelligence. Movement IV – Destin  of Concerto Épisodique is truly amazing, I'm not sure I've heard a guitar ensemble play something this virtuosic and still play so rhythmically. The accented shots from the accompaniment are impressive. I bet there are some good stories about recording this track!
One of the best guitar quartet recordings of arrangements! The virtuosity is high level and the ensemble is tight. Combine that with a quality recording job and great arrangements and you've got a must-have recording.
The album is accessible for all listeners. Amateur guitarist's looking to hear a professional group will get to hear them pull out all the stops. The professionals out there will take interest in the arrangements and the very well crafted musical ideas, shaping, and rhythmic playing of the ensemble.