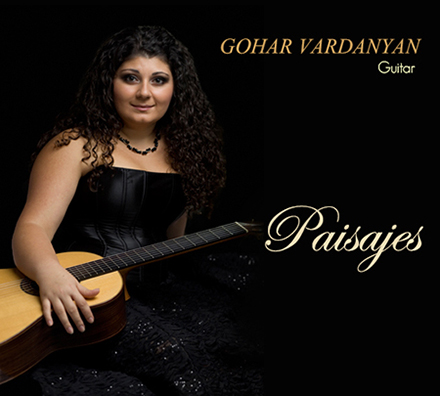 Artist Website: goharvardanyan.com
Tracks:
1. Fantasie Hongroise – Johann K. Mertz
2. Sevilla – Isaac Albéniz
3. Invocación y Danza – Joaquín Rodrigo
4. Andaluza – Regino Sainz de la Maza
5. Primavera Porteña – Astor Piazzolla
6. Un Sueno en la Floresta – Agustín Barrios
Sonata Op. 61 – Joaquín Turina:
7. I-Allegro
8. II-Andante
9. III-Allegro Vivo
Buy or listen to samples on Gohar's Website or via Amazon
Review: Paisajes by Gohar Vardanyan
Review by Bradford Werner – thisisclassicalguitar.com
Based out of NYC, Armenian guitarist Gohar Vardanyan has been touring extensively appearing at all the major festivals and concert series. Vardanyan holds a Master of Music Degree from The Juilliard School where she studied with Sharon Isbin, and a Bachelor of Music degree from the Peabody Conservatory of Music where she studied with Manuel Barrueco. If you've seen Gohar Vardanyan either live in concert or on YouTube then you already know her as a virtuoso guitarist with impressive technique and a clear and exciting musicality. You can check out her videos on her YouTube but make sure to also see her playlist via her sponsor, Strings by Mail, where many more videos are posted.
The first thing I'll say about the album is that the playing is incredibly virtuosic from a technique perspective. However, there are also rapid texture changes and clean and clear articulations that expand her virtuosity beyond just fast playing. The album is filled with classic repertoire such as Sevilla by Albeniz which is pulled off with style. It's almost a greatest hits of guitar album but there are also a few other selections such as the Sainz de la Maza's Andaluza which general listeners might not have heard before and the selections are all quality repertoire. Mertz's Fantasie Hongroise has some blazing scale and octave runs and showcases Gohar's ultra clear and rhythmic capacity for articulation on the guitar. But don't let the shocking technique fool you, there are also great moments of tender romantic rubato, luscious tone, and colour. I really like the contrasts between sections in the Albeniz, not many players have the technical skill to pull off such clear changes in texture combined with the guitar requirements. The Rodrigo offers more insight into Vardanyan's capacity for pacing and expansive awareness. Her clean style of playing makes this a tricky piece but she really pulls off the spacious textures and nails all the difficult passages with ease. The dance is also nice and calm but rhythmic too. The tremolo comes off as a bit thin because of the recording but is still played well. Vardanyan's ability to switch to different textures and right hand sound is amazing. All the sections of this piece have a specific sound and texture and the contrasts are brilliant once again.
Some highlights include Sainz de la Maza's Andaluza which is is rhythmically and musically a real treat in the hands of Vardanyan. She plays with a refined sense of direction and dynamic shaping but also maintains her clean style. The result is spectacular. I'd be hard-pressed to hear a better recording of this work. The Piazzolla is also a fun one. She plays the melodic lines with such virtuosic ease that the playful nature of the piece is realized. Piazzolla is tricky to play on one instrument but there was enough excitement on this track to keep me going. The Turina has some nice pacing in the slower sections with sharp contrasts to speedy passages. The form of the work is well presented because of these contrasts.
The recording quality of the album is fine but not spectacular. The mics pick up some finger and string noise and it can be a bit dry at times as if in a small recording space. However, once you adjust to it there is a good depth of sound and the contrasts between lush dark sounds and bright ones do come out which is the important thing. In the future, Vardanyan's clear sound on the guitar might benefit from a smoother recording with less bright reflections in the room but I'm being picky and I relaxed into the sound after a minute. None of this affected my enjoyment of the album.
Conclusion
Gohar Vardanyan's debut album is virtuosic, exciting, and bursting with musical energy!
Vardanyan's clean and clear playing style mixed with her shocking technical abilities allow her create sharp textural contrasts and crisp articulations while always maintaining a rhythmic framework and direction in her phrasing. The playing level in the guitar world has risen so much that new interpretations of many classic works are in progress and this album is a good example. The recording quality could be slightly improved which would smooth over some thin sounds here and there, however, this did not stop me from appreciating some of the wonderful colours and beautiful textures. This is an exciting album and should be of interest to any listener.