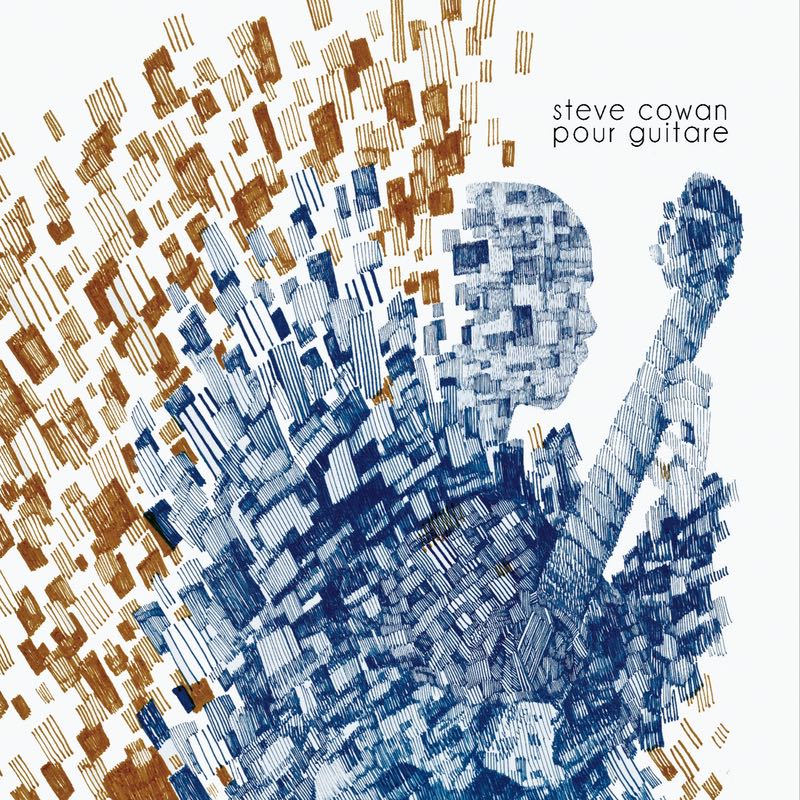 Pour guitare by Steve Cowan
With guest guitarist François Bergeron
Artist Website: stevecowanmusic.com
Release Date: 2016
Listen to Samples or Buy via Amazon: Pour Guitare by Steve Cowan
or iTunes / CD Baby
Canadian guitarist Steve Cowan recently released an album featuring a collection of works by Canadian composers. The album includes solos, duos and electroacoustic pieces. Most of the works are premiere recordings. It's a great mix of composers including Claude Vivier, Daniel Mehdizadeh, Jacques Hétu, Andrew Staniland, Jason Noble, François Bergeron, Kati Agócs, and Steve Cowan himself. The project was made possible through the assistance of the music section of the Canada Council for the Arts, as well as through the Prix de Québec from McGill University.
Album Repertoire
Pour guitare by Claude Vivier
Danse Burlesque for Guitar Duo by Daniel Mehdizadeh
Intermezzo, Op. 80 by Jacques Hétu
Dreaded Sea Voyage (I-III) for guitar and electronics by Andrew Staniland
Shadow Prism by Jason Noble
L'ineffable secret des images rupestres (I-II) for guitar duo by François Bergeron
Canzona by Kati Agócs
Changeling by Steve Cowan
Surprisingly, only the Vivier and Staniland have been recorded before making all the other tracks premiere recordings. In particular, the excellent Intermezzo, Op. 80 by Jacques Hétu has until now only been heard live in concert (remember it being the GFA set piece a few years back) and on YouTube so congrats to Cowan on getting this track on the album. Hetu is one of the most recorded and listened to Canadian composers and certainly a composer with a distinct and engaging style. Cowan's performance of the Hetu is haunting and well executed. With well-paced phrasing and motivic development, Cowan navigates this difficult work with ease.
The title track by Vivier had some interesting melodies and exploratory textures. This piece really highlights what sounds Cowan can extract from the instrument. The Mehdizadeh work for two guitars is a humorous and darkly satirical piece with great ensemble playing by Cowan and François Bergeron. Musical tension and crisp articulations really bring out the strength of the guitar in expressing a variety of gestures.
Before listening to the Staniland piece I was a bit apprehensive as it's been awhile since I've heard a classical guitar piece with electronics that was successful. Trying to bring guitar and electronics out of the 1970-90's format is tricky but I think Staniland wrote a pretty solid piece here. This one was written for Canadian guitarist Rob MacDonald back in 2013. One small thing about the recording is that I would have mixed it as one continuous track on the album as my computer created silences between tracks despite the obvious attacca into each movement. It probably plays continuously on some devices but not mine for some reason. I liked the inclusion of resampled guitar and auxiliary noises such as the sirens, heavy breathing, and machinery. At times we also get some real punchy percussive material that caught my ear. Cowan nails the ensemble playing creating both contrast and synergy between the guitar and the electronic track which is at times intensely intricate. There is some excellent rhythmic push coming from the electronics and some nice spacious soundscapes as well. Most importantly, the interaction between the electronic part and the guitar was more of a duo rather than simply an accompaniment electronics. I think this could have been taken even further in the composition but was still noticeably successful.
The duo piece by Bergeron, influenced in part by the music of French composer André Jolivet, displays some intense forward movement and interesting rhythmic ideas. Great to have some real collaboration on this album. Plenty of other great pieces on the album as well including Cowan's own composition that reminded me of a strange improvisatory mix of Hetu with sweet jazzy melodies. Makes me wonder what pieces he was playing at the time that influenced the piece, kind of a fun guessing game.
The recording quality is good overall. It's a well-balanced sound, most likely a studio setting due to the close sound of the upper register. It's a bit on the dry side here and there but never disappointing. I like the clarity and glassy texture but maybe a bit more warmth in the upper register could have been nice. That said, many of the pieces benefit from the clear sound and do not need a beefed up Spanish sound anyway. As I listened more I also started to appreciate the 'woody' sound of the guitar in the recording.
Conclusion
Pour guitare by Steve Cowan is an exciting album filled with premiere recordings of Canadian works. With fantastic playing, great repertoire, and a wealth of musical ideas to back it up, Pour guitare is both an important contribution to the guitar scene and an engaging listen.