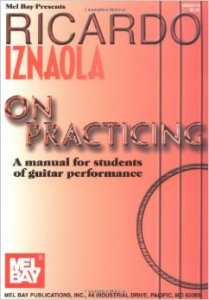 On Practicing: A Manual for Students of Guitar Performance by Ricardo Iznaola
Paperback: 24 pages
Publisher: Mel Bay Publications, Inc. (January 12, 2001)
Language: English
View inside or buy the book on Amazon:  Ricardo Iznaola on Practicing
Despite what the title suggests, this small manual is great for any musician. In fact, there is little to no reference to guitar. Most of the references are actually to violin and piano pedagogy books. Therefore, it is very applicable to all musicians. Guitarists greatly benefit from insight from other pedagogical influences.
You should also know that I LOVE his technique book and think it is likely the best one out there: Kitharologus: The Path to Virtuosity – difficult but well worth it.  – I've been going over this more thoroughly and it's great. It starts out super easy but gets very difficult. Plus there are some wacky technique tasks such as all rest-stroke during arpeggios but they payoff when you realize the economic and direction of energy benefits. However, I'm convinced this is an excellent book for anyone who wants to go beyond pumping nylon basics and really get into controlling their sound and technique.
About the author
Ricardo Iznaola is a guitar performer, composer, teacher, lecturer and writer. SoundBoard Magazine called him "one of the most seminal players, teachers, and thinkers of the guitar scene." The Los Angeles Times described him as "expressive, full of character, persuasive and assured musician with flair as well as technique." I've used his guitar books on occasion and found them to be extremely thorough and intense. It's nice to see that for this publication he reduced the intensity in favour of concise and clear objectives.
The Booklet:
The small 24 page booklet outlines seven sections:
The Basis of Good Practice (Intro, Inner Poise, Outer Poise)
Negative Factors That Affect Practice (Material and Tangible Factors, Intangible and Psychological Factors)
Purpose and Method of Good Practice
Practice Hygiene: The System of Practice (Materials, Time-Allocation)
Essence of Good Practice: Problem Solving
Memory and Sight Reading: The Question of Accuracy in Practice and the Role of Visualization
The Fuel for Good Practice: The Interaction Between Inner and Outer Motivation (Inner: Discipline, Outer: Duty)
The Content
The short length of this booklet is excellent for students. I have given it to students to read over the week but one could read it in an hour. For the average student this book will give practical and mature advice on how to practice. Mature musicians understand many of the concepts discussed such as emotional detachment, objective observation, ease of action and the difference between inner and outer poise. The negative factors that interrupt good practice is one of the more practical sections exploring the difficulty level of the material, amount of material, lack of time, and rhythm. But students are often curious about the process of practice and Iznaola breaks up the practice session into building time, interpretive time, and performing time. Furthermore, he explores the balanced blend of practicing exercises, etudes, and repertoire in relation to time allocation. But the most important section for students will be the essence of problem solving which lies at the heart of the booklet. Here he identifies three main considerations: identifying the problem, understanding it, and assimilating the solution. The case studies, or experiments as he calls them, involve visualization exercises and are interesting for those people who rarely get away from their instrument and look at music alone. In the final section Iznaola defines discipline as inner motivation, "the assumed responsibility to act in a pre-determined way in order to achieve goals that are important…" Outer motivation is linked with duty and Iznaola considers this idea to be a dividing factor between the professional and the amateur. As he suggests,  "for the professional, practicing is the most important activity; the amateur rests from other activities to practice." Therefore, professionals accept the duties that come along with the profession.
Improvements
Darn it's small. I know I already praised that aspect for being concise but it could have been twice as long and included much more on how to approach interpretive performance in the practice room. Then again, some students wouldn't read a larger book so this is manageable for any student. Also, a welcomed section on misconceptions about practicing would have been a very useful way of showing students why they should adapt to his suggestions. From this book I don't get a good sense of how to enjoy practicing which is something I stress while teaching. Learning to enjoy the practice session might be connected to practicing well so in the end if you follow the advice in the book you might end up enjoying practicing after all!
Conclusion
Short and sweet. An excellent introduction to good practicing that should be thoroughly looked over by music students of all levels and ages. Over the last twenty years of practicing music I'm always amazed at how I can still improve my sessions by tackling problems and being both efficient and musical at the same time. This book reminded me to get back to solid musical work in the practice room and I highly recommend it to anyone looking to improve the time they spend with their instrument in the pursuit of musical excellence. Compliment it with something very positive such as The Inner Game of Music by Barry Green and you'll be set.
View inside or buy the book on Amazon:  Ricardo Iznaola on Practicing