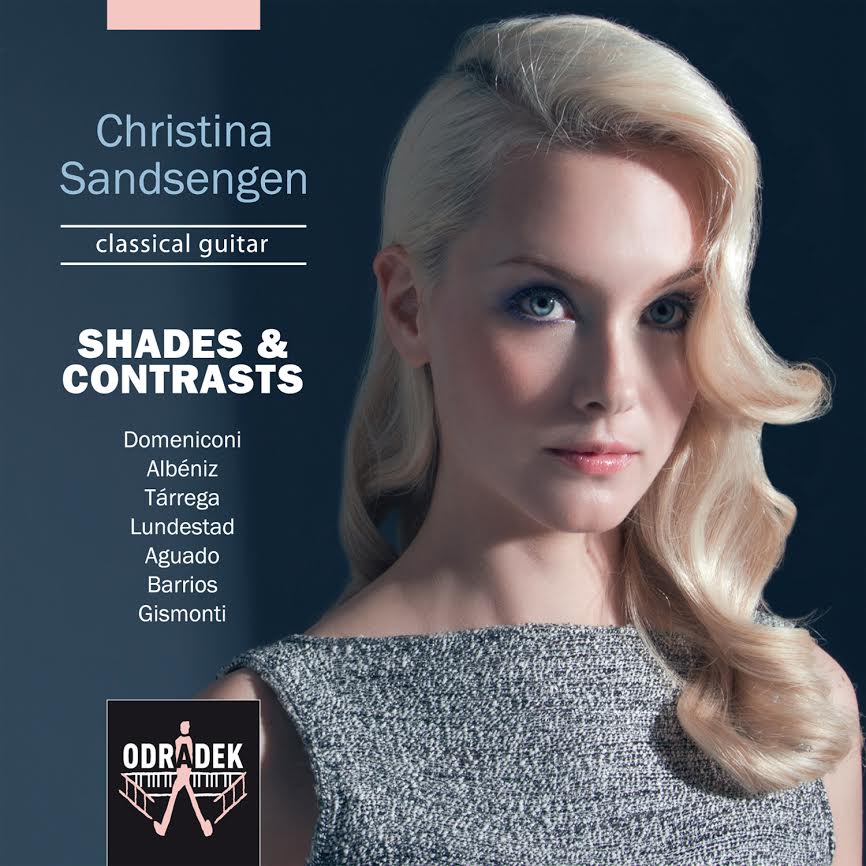 Shades & Contrasts by Christina Sandsengen
Release Date: November 4, 2014
Label: Odradek
Copyright: Odradek Records
Artist Website: christinasandsengen.com
Listen to samples or buy via Amazon: Shades & Contrasts
Repertoire:
Carlo Domeniconi: Koyunbaba (Suite Op. 19)
Isaac Albéniz: Mallorca Op. 22
Isaac Albéniz: Asturias (from Suite Española, Op. 47)
Francisco Tárrega: Lágrima
Anonymous: Spanish Romance
Sven Lundestad: Late At Night
Dionisio Aguado: Andante & Rondo
Agustín Barrios Mangoré: La Catedral
Egberto Gismonti: Água e Vinho
Norwegian guitarist Christina Sandsengen makes her recording debut with an album of well known classics as well as two lesser known works via Norway and Brazil. The strengths of the album are Sandsengen's nice, clear tone and spacious sense of phrasing which works particularly well with Domeniconi's work. The Domeniconi is well executed and very musical. She pulls off the difficult passages with relative ease and always has clear directional phrasing and musical ideas. The rasgueado section in the last movement is in contrast to the way I usually hear it (sounds more like regular strumming) but still works musically and is refreshing. Nice accents and rhythmic presentation. Some great virtuosic work in the Albeniz with risk and force where needed. Again, a very clear sound that adds definition to the notes. It's not the warm big Spanish sound of some but more of a glassy and pristine sound complimented by nice legato phrasing.
I was glad to hear the work by guitarist/composer Sven Lundestad (b.1950) after all the big favourites and Spanish Romance. The Lundestad is a jazzy little work but has its charms and works well on the instrument. The one work that dives deeper into the past is the Aguado which would be a bit out of place if this wasn't a debut (although it is called Shades & Contrasts). The Aguado is well suited to Sandsengen's clear phrasing and engaging articulations. The Barrios, as with the Domeniconi, showcases Sandsengen's expansive sense of phrasing which is difficult on a recording but she pulls it off beautifully. The last movement of the Barrios is virtuosically impressive but a bit less in control in regards to tempo and shaping. However, it has risk and excitement as well as some sweet phrase endings so I still very much enjoyed it. Good to hear other lesser known works (to me anyway) such as the one by Brazilian composer, guitarist, and pianist Egberto Gismonti (b.1947) which blends Brazilian styles into the classical tradition.
Recording quality is great overall, clear and present but not without a sense of space. It could be a bit bright for some. I actually like how clear and defined it is but at times it could be a bit warmer to compliment Sandsengen's clear tone. However, it's warm when it counts such as the slower movements of Domeniconi and Barrios. On occasion the basses sound a bit like they've gone through a tube preamp but overall I like the recording quality and it will please listeners.
Although I would have enjoyed less of the classics there was still the less familiar works by Lundestad and Gismonti to keep the album fresh and appealing. Sandsengen's tone is clear and refined and has a refreshing directness. This album is of interest to general listeners and guitarists and I look forward to hearing the next album. Sandsengen is doing everything right, a strong debut, great promotional materials and mixing classic repertoire with a modern sound. What would be great to see next is an album of comtempory Norwegian composers as a contrast to hearing another album of classics. Great album overall, bravo!
The BIG quote:
"Christina Sandsengen's Shades & Contrasts is a fantastic debut filled with virtuosity and beautifully expansive phrasing. I will eagerly await more from this bright young artist."
– Bradford Werner, thisisclassicalguitar.com