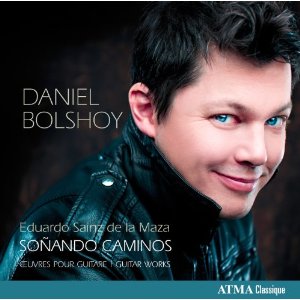 Eduardo Sainz de la Maza (1903-1982)
SOÑANDO CAMINOS
ŒUVRES POUR GUITARE | GUITAR WORKS
by Daniel Bolshoy
Release Date: September 6, 2011
Label: ATMA Classique
Copyright: (C) 2011 ATMA Classique
Listen to samples or buy on Amazon:
Maza: Soñando caminos
TRACKS:
Confidencia-preludio
Evocación Criolla
Homenaje a la guitarra
PLATERO Y YO SUITE
Platero, El Loco, La Azotea, Darbón, Paseo, La Tortuga, La Muerte, A Platero en su tierra, Soñando Caminos, Campanas del, Alba, Homenaje a Toulouse-Lautrec, Bolero, Habanera
CANCIONES POPULARES
La Paloma (Yradier)
Colorado Trail
Swanee River
The works of Spanish composer Eduardo Sainz de la Maza (1903-1982) are often overlooked but, as Bolshoy points out in his programme notes, the composer "felt that his music filled a void in the repertoire of the instrument, which he considered to be too dependent on arrangements and too short on original works."  Many will know the name of the composer's brother Regino, a virtuoso guitarist himself, who taught at the Madrid Conservatory, was the music critic for the Spanish newspaper ABC, and toured the world. At the heart of Spanish musical culture of the time he was "the dedicatee of many masterpieces such as Antonio José's Sonata and Joaquín Rodrigo's Concierto de Aranjuez.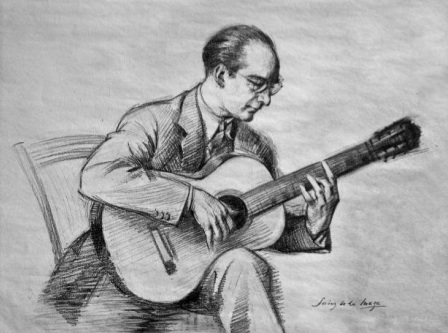 I've heard other recordings of Daniel Bolshoy before which are strong and filled with excellent varied repertoire selections but this recording is different. Here Bolshoy has immersed himself in the works of one composer and the care and musical maturity of his playing is well matched. I found myself quite touched by the musicality of Bolshoy's performance and intimate sound of the recording. In particular, Bolshoy's rubato and patience at sustained expressive notes really pulled me into the sound world of the composer and the instrument.
Platero y yo: II. El Loco, not to be confused by Tedesco's similar composition, is one of the sustained and expressive movements that I thought really highlight Bolshoy's expression and mature musicality.
Platero y yo: IV. Darbon, here the contrasts between the ominous dark bass intro and the contrasting colour of the rolled chords was a special point in the recording. This is followed by a lively dance that really showcases his versatility.
This is one of finest and fully dedicated recordings of Eduardo Sainz de la Maza's music out there and definitely an album you'll want in your collection of post-romantic/early twentieth century era music for classical guitar. After listening to the album over the past two days I've started to feel a bit ashamed that I've ignored the composer over the years and sincerely thank Bolshoy for bringing his music alive. Highly recommended for classical and general listeners!
One of Canada's finest musicians, Daniel Bolshoy gives listeners an album of utter beauty and sensible musicality!