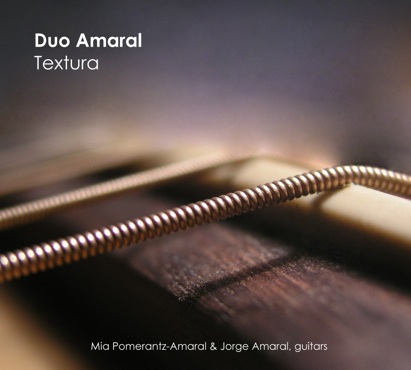 Textura by Duo Amaral
Jorge Amaral & Mia Pomerantz-Amaral
Artist Website: duoamaral.com
Listen to samples or buy via Amazon: Textura by Duo Amaral
Repertoire:
L'estro Armonico Concerto No.9 RV 230 by Antonio Vivaldi (1678-1741)
Sonata in G Major by Giovanni B. Sammartini (1698-1775)
Two Sonatas (A Minor K. 175 & E Major K 531) by Domenico Scarlatti (1685-1757)
Chaconne by George Frederick Handel (1685-1759)
Prelude, Fugue, and Variation, Op.18 by César Franck (1822-1890)
España Op. 165 by Isaac Albéniz (1860-1909)
This is the second release from the excellent Duo Amaral. I reviewed their debut album, Súplica, last October 2012 and loved it. So, I was very happy to receive this new album of transcriptions. Most of the arrangements on the album are by Duo Amaral but there is also some work by Grey/Pearl Duo, G. Biberian, and Matanya Ophee.
The Vivaldi has excellent pacing, mature phrasing, and expressive shaping. This work is from a collection of twelve concerti for a range of one to four violin soloists with a cello for the basso continuo. Concerto No.9 was arranged for harpsichord by J.S. Bach giving this work a history of arrangement that Duo Amaral continues. They pull off the exciting rhythmic crescendos and I often forget that it's a duo playing because of the well worked out phrasing.
I am somewhat unfamiliar with Italian composer Giovanni Sammartini outside of his teaching Gluck as well as others. I have become fond of pieces like this in the more galant style of the later Baroque and early classical period. This smoother, flowing style sounds very sweet alongside Baroque rhythmic structures. This work, originally for oboe or flute and harpsichord, is very well suited to classical guitar and the fine articulations and mix of Baroque and Classical style is beautifully pulled off by Duo Amaral. The fourth movement in particular is executed with style. Their quick shifts of mood and clean articulation make it very exciting. The final cadence, for example, has excellent rolls reminiscent of harpsichord work. Beautiful!
Scarlatti sonatas are never a bad choice for guitar duos. They sound appropriate on guitar and the texture is clear enough to not become muddy or too difficult to handle. However, what a duo does with the music is the more important thing. Amaral's performance includes some excellent ornamentation and again, as with the Sammartini, contains solid articulation and shifts in mood. Scarlatti is always very dramatic and these two sonatas don't disappoint.
Handel is not arranged for guitar nearly as much as it should be. The melodic work and beautifully executed Baroque conventions make it a pleasure to listen to. This work, originally for keyboard, is a ground bass theme with twenty one variations. This is a G. Biberian arrangement and I have to admit, a very good one. It offers everything the listener wants to hear from beautiful suspensions, counterpoint, dark sincerity, and virtuosic flourishes.
The Franck arrangement, by Matanya Ophee, is an interesting arrangement. Franck wrote the work for harmonium and later transcribed it for piano and organ. The calm, legato, and emotionally reflective mood of all the movements are pleasant and the music beautiful. I suppose from the perspective of listening to the entire album, it didn't link up with the Baroque atmosphere of the previous tracks. Plus, since I'm not used to hear this type/era of composition on guitar, it sounded a bit odd to my ears. As if the guitar was too delicate for the composition. However, the work is well performed and the mood infectious.
I have never liked Op. 165 by Albeniz as solo arrangements but it can be very successful as a duo. Here, it works charming wonders. The Malagueña was quite exciting as Duo Amaral again pulls off some great worked out articulations and ensemble work.
Recording Quality has a nice warm feel with what sounds like mics at a good distance away. I think the sound could have been a bit more present and more up-close. I feel a bit bad saying this because on the last album I thought the mic placement was too close and present. I guess there is no pleasing me (Brad the jerk!). However, the quality is still pleasant and sweet and I completely forgot about it after a few minutes as it is good quality. It just sounds like an old-school album in a hall which just isn't as common anymore but is in no way a bad thing. Maybe for the third album they will aim for something between the two albums in terms of sound.
Criticisms: The playing is so great on this album that I have little to criticize. The duo worked out all the phrasing, musical ideas, and articulations and executed it wonderfully. I suppose it could have been fun to have the album as an all Baroque collection so it had more of a unified mood. Nevertheless, all the repertoire is good and enjoyable for all.
Conclusion:
Duo Amaral releases another very impressive album. It can be enjoyed by all from professionals interested in high quality ensemble interpretations to general listeners who love Baroque to late 19th Century works. Never did I feel the transcriptions inappropriate for two guitars or ensemble difficulty. Duo Amaral pulls off everything with ease and in style. The recording quality is sweet and warm but not for everyone, and I might have wanted an all Baroque album but it was enjoyable all the same.
One of the premier classical guitar duos of today! Duo Amaral delivers some of the best ensemble work, musical expression, and repertoire. Another great album release!
Artist Website: duoamaral.com
Listen to samples or buy via Amazon: Textura by Duo Amaral