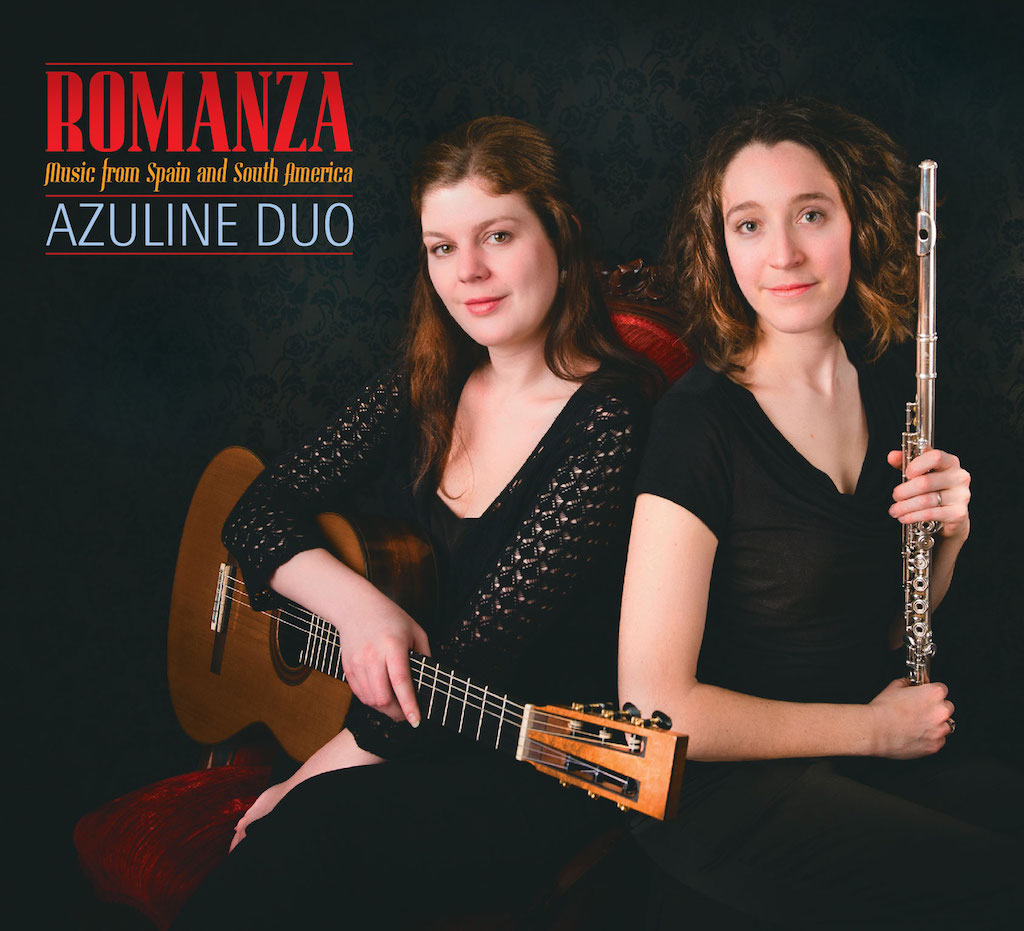 Romanza: Music from Spain and South America
by Azuline Duo
Emma Rush, guitar and Sara Traficante, flute
Learn more or buy via Azuline Duo
If you don't already know Emma Rush, she is a wonderful Canadian guitarist and also heads up the Guitar Hamilton society and the Hamilton International Guitar Festival. Here she is joined by flutist Sara Traficante where they have recorded an great album with a number of Spanish crowd pleasers, exciting South American works, and the beautiful Distribução los flores by Villa-Lobos. Although you might have heard some of this repertoire before, it's quite refreshing to here it with flute. Guitar and flute is such a great combination, the punchy guitar lines mix well with the legato flute.
Fantastic performances, great repertoire, and sound quality to match, this album is sure to be popular with general listeners and guitarists alike. You can learn more about the album via some liner notes below:
Romanza – Music from Spain and South America showcases the rich history of the guitar and the brilliant voice of the flute in an exciting chamber music setting. Manuel de Falla's flamenco opera La vida breve isn't often performed in its entirety, but the passionate Spanish Dance, originally for orchestra, remains an audience favourite. Andaluza is one of 12 Spanish Dances by Enrique Granados. These pieces were written in 1890, when Granados was writing in a distinctly nationalistic style. Although originally written for piano, Andaluza is often performed on guitar and the voice of the flute complements this beautifully. The Argentinian composer Maximo Diego Pujol uses each movement of the Suite Buenos Aires to capture the essence of a particular area of that vibrant and musical city. Each piece has a distinct character, and one can hear the chaos (including sirens!) of the city centre in the final movement, Microcentro. The famed Brazilian composer Heitor Villa-Lobos only wrote one piece for guitar and flute and the result, Distribução los flores, is a haunting rainforest soundscape. Astor Piazzolla was the master of the tango, and Libertango is perhaps the most well known of his works. It finds a home with countless combinations of instruments and this arrangement uses exciting and unconventional techniques. Jose Luís Merlin's Evoción y Joropo begins with a stirring slow movement and concludes with an unabashedly joyful Joropo, a characteristic Venezuelan dance.
Repertoire (*arranged by Azuline Duo)
Spanish Dance from La Vida Breve by Manuel de Falla (1876-1946)*
Andaluza (Spanish Dance No.5) by Enrique Granados (1867-1916)*
Suite Buenos Aires by Maximo Diego Pujol (1957)
Distribução los flores by Heitor Villa-Lobos (1887-1959)
Libertango by Astor Piazzolla (1921-1992)*
Evocación y Joropo by Jose Luís Merlin (b. 1952)
Produced and engineered by Kirk Starkey
Recorded at Central Presbyterian Church in Hamilton, ON
Design by Richard Talbot
Photography by Julie Thompson and Elspeth Thomson