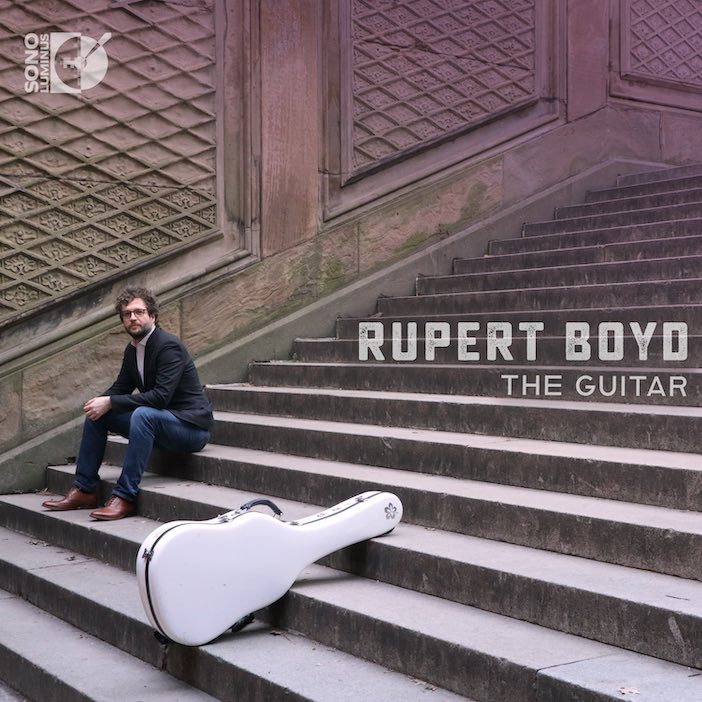 Rupert Boyd – The Guitar
Artist Website
Sono Luminus Records 2019
Buy, Listen, Learn More: Sono Luminus | Amazon |Apple Music | Spotify
Rupert Boyd has been featured on the site numerous times and has clearly established himself as a top notch soloist as well as chamber musician in the duo Boyd Meets Girl with Laura Metcalf (cello). This solo album will appeal to general listeners with its variety and charm and guitarists will find inspiration in the virtuosic performances of beloved repertoire. You can read up on the pieces and learn more via the nice PDF album booklet on Sono Luminus.
Highlights include Boyd's performance of Jobim's Felicidade and Estrada Branca where his playing ranges from sweet phrasing to virtuosic rhythmic vitality. The improvisatory nature of the pieces and Boyd's natural groove bring these pieces to life. The contrast to the following Sor is a bit shocking at first but Boyd's understanding of the charm of Mozart's theme and Sor's playful variations make more connections to the Jobim than you might first imagine.
I also enjoyed hearing Bach's well known Suite in E Major. Excellent counterpoint throughout and his flowing, yet rhythmic, interpretation is a great mix. The work by composer and fellow Australian, Graeme Koehne, was originally for piano but has been very successfully adapted to guitar by the composer. A relaxing and beautiful work and could be a very appealing concert encore. It's great to have these Brouwer etudes recorded by a pro and remind us that they are not just student works but great little motivic sketches in their own right.
The album closes off with the well know Benítez arrangements of Piazzolla. As with the Jobim, Boyd's tight rhythmic groove meet with freedom and risk taking for an exciting performance. I like how he pushes the improvisatory feel of the works but is never overly indulgent and keeps good forward movement in the performance. Great arrangement of Julia by the Beatles with some charming arranging/orchestration for the simple texture.
The Guitar by Rupert Boyd will delight general listeners and guitarists alike with its mix of unpretentious charm and sophisticated virtuosity. Boyd's performances shine with flowing musical melodies, elegant interpretations, and tight rhythmic grooves. A must-have album of 2019.
About the album, written by the performer
This album pays homage to the guitar. While the casual listener may recognise many of these works as favourites from the guitar canon, the majority of the repertoire wasn't originally written for the instrument.

Only the Sor and the Brouwer were originally guitar compositions. The other works started life in a different form, and stand testament to the strength and versatility of the guitar to not only play such a diverse range of repertoire, but to truly embrace it.

With its polyphonic capabilities and roots in popular music around the world, the guitar is singularly capable of such a traverse of styles. This album is not, as the title may imply, a collection of the most beloved or greatest hits from the classical guitar repertoire, but instead a demonstration of the power and ability of the guitar to perform and assume ownership of such beloved repertoire. — Rupert Boyd
Repertoire
Antônio Carlos Jobim (1927-1994): Felicidade (arr. R. Dyens); Estrada Branca (arr. P. Bellinati)
Fernando Sor (1778-1839): Introduction and Variations on a Theme by Mozart
Johann Sebastian Bach (1685-1750): Suite in E Major, BWV1006a
Graeme Koehne (b. 1956): A Closed World of Fine Feelings
Leo Brouwer (b. 1939): Estudios Sencillos I-X
Astor Piazzolla (1921-1992): Milonga del Angel (arr. B. Benítez); La Muerte del Angel (arr. B. Benítez)
Lennon/McCartney: Julia (arr. R. Boyd)
Videos from this album