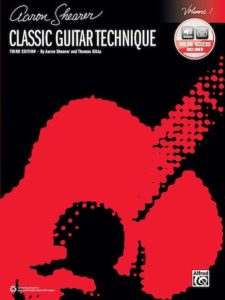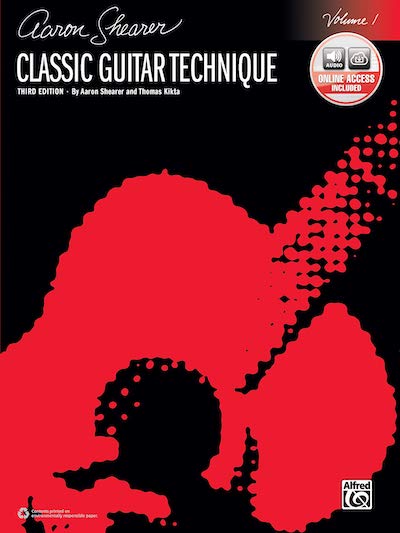 Classic Guitar Technique, Volume 1 by Aaron Shearer and updated by Thomas Kikta. This is a good solid method book for absolute beginners. It's even better as a nice review or sight reading book for late-beginner students. Lots of great exercises, compositions, and a wealth of knowledge. I do use this book with my students but I have a couple of different ideas about teaching. I wish the 4th finger was used for the high D and G notes because by the time they reach the end of the book or post-method repertoire they have to the 4th finger most of the time as they grab bass notes. Also, I mainly teach with free stroke for beginners and the book has so much rest stroke stuff. That said, I've seen great results with this book so any different teaching approaches are personal preference rather than critique. This is a great method to go over after using a simpler method, it will help solidify many concepts and that's why I recommend it.
Buy the Book or Look Inside
Publisher's Text: Aaron Shearer's Classic Guitar Technique has long been the core method used by generations of classic guitarists. Alfred Music is proud to present the third edition, and first major revision, of Volume 1 of this benchmark work. Completely re-edited and updated in collaboration with Thomas Kikta (one of Aaron's former students and the head of Duquesne University's Classic Guitar Department), the third edition maintains the character and appeal of the original book while providing new critical insights into core techniques that had not been addressed in previous editions. Also, for the first time, companion online audio recordings are included with the book, providing demonstrations, play-along tracks, and duet opportunities to ensure students correctly emulate the tone and feel of the music.