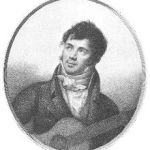 Sor Study No.13, Op.35 (Segovia No. 2) by Fernando Sor (1778–1839)
Free Sheet Music for Classical Guitar in Notation
or Notation + Tablature (TAB) Edition
Level: Intermediate (Grade 4)
Here's a free sheet music PDF of one of the most well known Sor Studies. I've made a free copy to attract guitarists to the site and a tablature (tab) version for those who need it. Segovia included this one in his book of Sor studies 20 Studies for the Guitar. It's a nice arpeggio (alberti bass) with a pretty melody in the top voice. Just make sure to play the melody on it's own and shape and phrase it the same way when you add all the notes. Includes fingering, notation, and Tab if you need it. Join the Email Newsletter to get updates on free sheet music and more. Please consider donating to the site to keep the free sheet music coming.
Free Notation Only Edition
TAB Edition (PDF Download): $2.99
Werner Guitar Editions is my dedicated store for free and premium guitar editions. Includes instant access to PDFs, the best security, search functionality, and payment options. – Bradford Werner
Here's a video of Uros Baric playing the above piece.