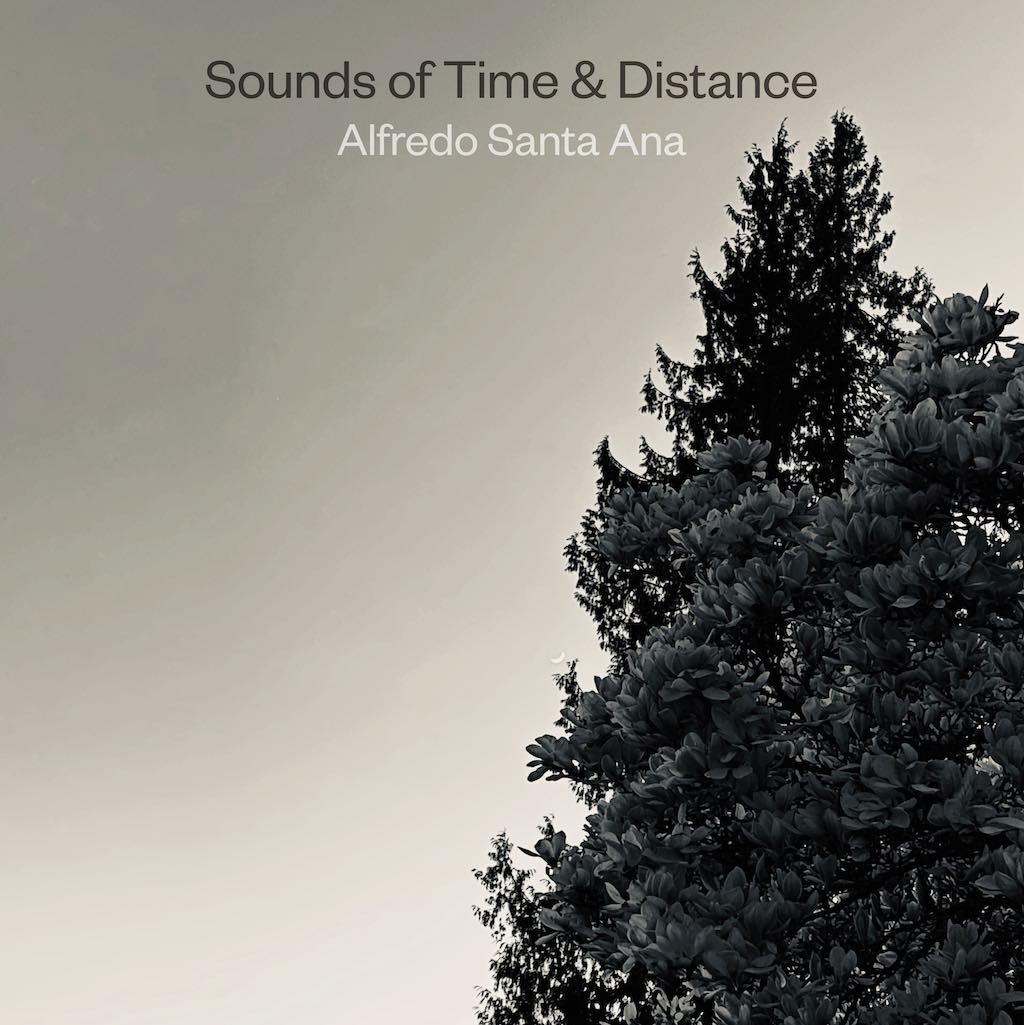 Sounds of Time & Distance
An album of music for guitar, electronics, and flute
By Alfredo Santa Ana
ASA Records
November, 2022
Listen or Buy via Spotify, Bandcamp, Apple or learn more at alfredosantaana.ca.
Vancouver composer Alfredo Santa Ana has a fantastic new album of works exploring the guitar in a role as a central voice. It's an exciting listen with works ranging from beautiful soundscapes to mysterious timbres and textures all mixed in with influences from a multigenre musical world. The album includes guitar performances by the composer, Michael Ibsen, Nathan Bredeson, Adrian Verdejo, as well as Mark Takeshi McGregor on flute. Also on the album is a brilliantly clean and tight performance of Steve Reich's Electric Counterpoint that fits in nicely. Under an Orange Sky sets up the listener for the experience with its variety of textures and evolving momentum. I was also impressed with the duo performance by Ibsen and Bredeson on Foundation Visit High Scatter with its intricate and constantly unraveling lines. Wave Remote with Verdejo on electric guitar and McGregor on flute is a curious and wonderful role reversal with the guitar taking on much of melodic material on top of the beautiful tapestry of the flute accompaniment. Here's a few words about the album from the composer via his website:
I created the album Sounds of Time & Distance as an opportunity to experience being inside two distinct perspectives: that of performer and that of composer.

A few years ago, I reconnected with playing guitar—the first instrument that gave me access to understanding music beyond the sphere of listening. Simultaneously working out a new composition while hearing myself play guitar offered a different musical exploration that became the impetus behind this album. I chose the guitar as the voice, the through line of each piece. Its presence in the album is a way for me to engage with past musical genres and technologies while also getting to share performer credit with some of my favourite collaborators.

Some of the works in this album were recorded in professional studios and in artists' personal home studios, stretching the recording over thousands of miles between Utrecht, Ottawa, and Vancouver—across months and seasons of time. The album also includes a recording of me playing in a basement in 1999, using guitars that no longer exist and technology that is obsolete.

Writing and performing music for this album allowed me to engage with memories of when I first encountered specific musical genres and different musics in my lifetime. This phenomenon resulted in this hybrid album, an integration of personal sound origins and influences present in this multi-genre collection, borne out of time and distance.
See more credits and performance notes on the composer's website.
ALBUM TRACK LIST
Under An Orange Sky
El Nacional
Foundation Visit High Scatter
Wave Remote
Drowning Bulls
Electric Counterpoint (I. Fast)
Electric Counterpoint (II. Slow)
Electric Counterpoint (III. Fast)
Where Else