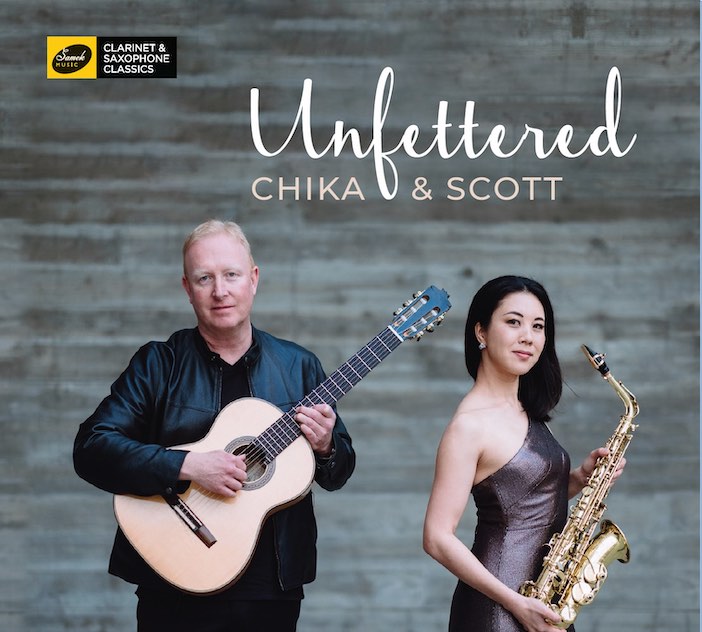 Unfettered by Chika & Scott
Chika Inoue (Saxophone) and Scott Morris (Guitar)
chikaandscott.com
Samek Music 2020
Listen or buy from Samek Music
Unfettered is the new release from Chika & Scott with Chika Inoue on saxophone and Scott Morris on classical guitar. You don't hear this instrument combination very often, especially in the classical world. The pairing works well with the guitar providing the bulk of accompaniment and the saxophone covering the majority of melody. The saxophone is gloriously smooth and rich in tone, when you hear the first entry you'll immediately be enticed. The album is a mix of Schubert and Mozart works that have a rich tradition of arrangement. I particularly enjoyed their performance of the Schubert Lieder Ständchen from his Schwanengesang D. 957. The saxophone is ultra expressive and sensitive to the vocal line while the guitar fills in the lush harmony and beautiful accompaniment. The variations on Ah vous dirai-je, Maman offers some lighter but intricate ensemble fun to break up the expressive intensity of the Schubert Arpeggione Sonata and Mozart's Adagio in B Minor.
Unfettered by Chika & Scott is an exciting album of saxophone and guitar arrangements filled with expressive moments of beauty and delightful ensemble work. This unlikely combo will surprise you with their arrangements of Schubert and Mozart where the saxophone's soaring lines and the guitar's rhythmic and rich harmonic accompaniment successfully embrace two of the greatest composers of the Classical and Romantic eras.
Repertoire
Schubert Arpeggione in A minor, D. 821
Schubert: Schwanengesang D. 957 No. 4: Ständchen (Serenade)
Mozart: Mozart's Adagio in B minor, K. 540
Mozart: Twelve Variations on "Ah vous dirai-je, Maman", K. 265/300e
Schubert: Ellens Gesang III, D. 839, Op. 52 No. 6 : Ave Maria
Album Notes
As home to the "big four" of Western Art Music which includes Ludwig von Beethoven, Franz Joseph Haydn, Wolfgang Amadeus Mozart and Franz Schubert, Vienna's reputation as the "City of Music" is one that is well earned. Mozart moved to Vienna in 1781 at the request of his employer, the Archduke of Salzburg, and decided to stay as a freelance composer and musician until his death. Schubert, the only member of the Big Four to be born in Vienna, was active in the city for the rest of his life.

While neither Mozart nor Schubert wrote for the saxophone or the classical guitar, the arrangements we have done imagine a reality in which they did. Adolphe Sax designed the saxophone around 1840 and the six-string "classical" guitar was emerging from the 5-course Baroque guitar by the end of the 18th century. Mozart died in 1791 at the age of 35 and Schubert in 1828 at 31 might very well have lived to see the development of these instruments and included them in their chamber works. At least this is what we would like to believe.