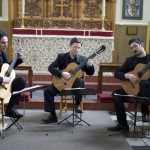 Some clips from a recent concert I played in with my buddies from the Victoria Guitar Trio on March 22, 2015. These movements are from a multi-movement work named On Poetics written for us by Scott Edward Godin. This is just four of seven movements. Inspired by Aristotle and many musical references. Listen for references to popular music and classical quotes too! My favorite is the last one with some good Crosstown Traffic going on! You can put your guesses in the comment section for the other movements.
On Poetics by Scott Edward Godin
Written for the Victoria Guitar Trio
Bradford Werner, Adrian Verdejo, Michael Dias
catharsis
ethos (character); hamartia (tragic flaw)
melos (melody); dianoia (thought)
anagnorisis (revelation); peripeteia (reversal)
Oak Bay Music Society – Matinée Concert Series, March 22, 2015.
Thanks to Erik Abbink for the video and sound, and for directing the series.
catharsis
ethos (character); hamartia (tragic flaw)
melos (melody); dianoia (thought)
anagnorisis (revelation); peripeteia (reversal)