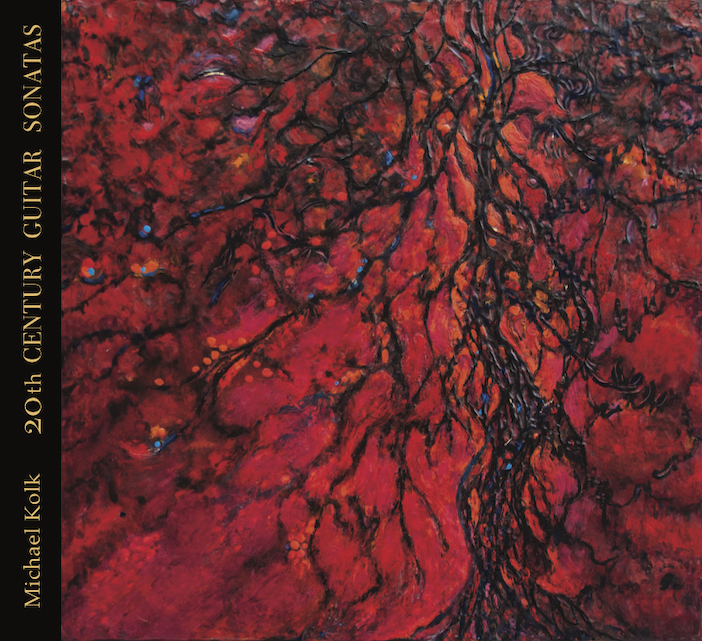 20th Century Guitar Sonatas by Michael Kolk
Artist Website: michaelkolkguitar.com
Produced and Engineered by Drew Henderson
2020 Michael Kolk
Listen, Learn, or Buy: michaelkolkguitar.com, Spotify, Amazon, iTunes
Great to hear a new album by one of my favourite players, Canadian guitarist Michael Kolk. 20th Century Guitar Sonatas features four compelling sonatas written for the guitar: Sonata para guitarra by Antonio José (1902-1936), Sonate in a für Guitarre by Ferdinand Rebay (1880-1953), Sonatina for Guitar by Cyril Scott (1879-1970), and Sonata No. 1 para guitarra by Carlos Guastavino (1912-2000). From Spain, Austria, England, and Argentina, the sonatas were composed between 1927 and 1967. Modern, but very listenable, these are works that all guitarists need to be familiar with. The album was recorded at the now, guitar famous, Church of Saint Mary Magdalene in Toronto, ON, which you might know from various Naxos recordings. Sound quality is fantastic, as always from Drew Henderson. Of interest, the cover art is a painting by Toronto based artist Amanta Scott (Cyril Scott's grand daughter).
Most listeners will be familiar with Jose's well known Sonata para guitarra which is one of the most significant sonatas in the repertoire. Some might know Cyril Scott's Sonatina written for Segovia. However, Ferdinand Rebay's Sonate in a für Guitarre is recorded here for the first time and the Guastavino is generally underplayed. Rebay has a number of high quality chamber music and solo works despite being a violinist and pianist himself. I've seen his repertoire popping up more and more often. Here's a bit of info from Graham Wade via this Naxos album of violin and guitar works (also by Kolk): "Rebay became interested in composing for the guitar following his friendship with Jacobus Ortner (1879–1959), professor of guitar at the Musikhochschule, and through his niece, the concert guitarist Gerta Hammerschmied, the dedicatee of many of his guitar works. He composed about 600 pieces (296 of which are kept in the Abbey of Stift Heiligenkreuz collection) for solo guitar, guitar chamber music in various combinations with other instruments, lessons for beginners, solo songs, children's songs and choral parts with guitar accompaniment." The sonata clocks in at around 14 minutes and includes a great set of variations as the inner movement. Beautiful playing by Kolk filled with lovely phrasing and sharp contrasts and articulations.
I'm a fan of Kolk's playing for his modern musical approach that offers all the virtuosity and musicality of any of today's top players but in a balanced and presentable way that does not interfere with the momentum and structure of the composition. For mature repertoire such as sonatas, Kolk's playing is a perfect match. In huge works such as José's 20 minute sonata the ability to stay focused and not wander away from the form of the work is essential. Kolk is able to successfully piece together the various themes and interjections into a solid whole.
Kolk has been playing some of these works for years. I'd already heard his performance of the Sonatina for Guitar by Cyril Scott from back in 2016 (1st movement below). You can watch all the movements (I, II, and III) via his Youtube. This work features a rich harmonic texture influenced by impressionism but with occasional dissonant bite and focused contrasts. Kolk really highlights the motivic lines while mixing them into the overall texture. He also highlights some wonderfully silky and fluid phrasing here.
I've only heard Sonata No. 1 para guitarra by Argentine composer Carlos Guastavino a few times but after hearing this recording I'm pretty convinced it's a great work and needs to be heard more often. In some ways the work is easy listening and delivers a pleasing Argentinian flavoured 20th century work but not without unexpected twists and turns.
Summary
20th Century Guitar Sonatas by Michael Kolk features four of the guitar's most significant sonatas performed by one of the great players of today. Beautiful and virtuosic playing is balanced with focused and intelligent interpretations. This album will interest general listeners, instrumental performers, and critics looking for solid recordings of sonatas by a top performer. A must-listen recording for any guitarist not familiar with the repertoire. Highly recommended.