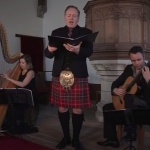 Ae Fond Kiss with Guitar, Harp, & Voice as arranged by Eddie McGuire and performed by the Bardic Trio. Nicely done Matthew McAllister et al.
Here's some info via Matthew McAllister's facebook page. Go like his page to get wonderful video updates like this and more. You can also check out his new website that is looking pretty snazzy.
Here is a new arrangement of the beautiful song 'Ae Fond Kiss' performed by the Bardic Trio made up of Jamie MacDougall (Tenor), Sharron Griffiths (Harp) and myself on guitar.

Scottish composer Eddie McGuire created this beautiful setting of the famous Robert Burns song Ae Fond Kiss for us late last autumn and we have finally found the time to commit it to this film.

Burns had a platonic relationship with Agnes Maclehose and they wrote to each other using the names 'Clarinda' and 'Sylvander'. Burns wrote 'Ae fond kiss' after their final meeting and sent it to Agnes on 27 December 1791 before she left Scotland for Jamaica to be with her estranged husband.