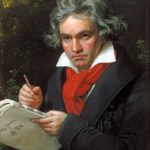 Moonlight Sonata (Op. 27, No. 2) – Single Movement "Adagio sostenuto" or "Claro de Luna" by Ludwig van Beethoven (1770-1827). Free PDF sheet music or tab edition arranged for classical guitar by Francisco Tárrega (1852–1909). Level: Late-Intermediate to Advanced. It's not fast but there are some difficult chord changes and awkward parts (Grade 9).
Here's a free sheet music edition of Beethoven's Moonlight Sonata for Guitar arranged by Francisco Tárrega's (1852–1909). I'm made some minimal revisions. It's not the easiest arrangement but does sound nice. The awkwardness comes from the difficult chord changes rather than speed. Nevertheless, it's a part of the history of period arranging on guitar. I've made a free copy to attract guitarists to the site and a tablature (tab) version for those who need it. You can also find the tab as a hardcopy in my Classical Guitar Tab book on Amazon.
My Free PDF Sheet Music Edition
My TAB Edition
Video Performance
I don't have a video for this yet but here is an excellent performance by Russian guitarist Anton Baranov playing Tarrega's arrangement of the Moonlight Sonata (Op. 27, No. 2) via his Youtube.
Video Lesson